At a recent Workplace by Facebook User Group in Palo Alto, ServiceRocket founder and CEO, Rob Castaneda, shared his ideas for how to use live streaming at work to improve communication, increase employee engagement, and otherwise being a more effective leader. This is an important topic since communications is a critical skill in executive leadership and in organizational performance. But don't just take my word for it. An article in Harvard Business Review calls poor communications the "silent killer of big companies" and describes successful companies as those that adopt communication methods that enable executives to get closer to employees, put in place communications systems that promote dialog, rather than monologue, and engage employees to become more active participants in the communications process.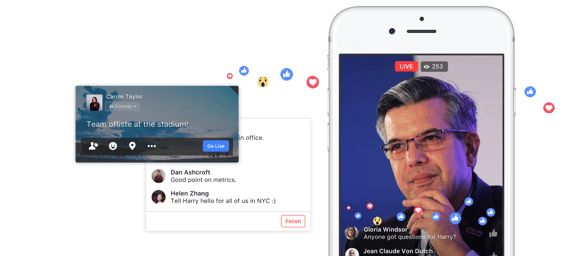 Workplace is designed specifically to address these issues by bringing people closer together (especially employees in the field with no desk, not computer, and no email), promote multi-directional communications, and empowering all employees to participate.
Among Workplace functions that promote improved communications is live video. Imagine the potential for improving communications if doing live video is as easy as two or three taps on your phone presents the opportunity to delivering messages to everyone in your company. And if a pictures says 1,000 words, how many words does a video tell?
Rob Castaneda believes his ability to communicate and connect with people in four offices around the words has risen dramatically with his ability to "Go Live" in a variety of circumstances. He has already seen an increase in his ability to share stories, make personal connections with more employees on 4 continents, and feel like he can be in multiple places at once.
Based on his experience, Rob has defined seven specific ways to use live video to improve communications, connections, and engagement in a global company. Each is described below.
Caption: Rob Castaneda at the Workplace by Facebook User Group (audio begins at 8 minutes into the video).
The Interview
One of the best (and perhaps, easiest) ways to use live streaming at work is to do interviews. Interviews could mean a lot things. During a customer visit, you could interview a customer and stream that video to your Customer Success team's group in Workplace. You could interview partners, suppliers, employees, or any other interesting people you meet on business travel or at conferences (more on conferences below). In once example, Rob recently visited the Workplace team at their London office. He live streamed his meeting with the Workplace engineering team because we wanted to share the experience with the ServiceRocket engineering team. Rob added language to his post that the conversation was for internal purposes only to ensure the team using the information from the meeting properly. Not only did the ServiceRocket engineering team get to watch the video live and post questions in the comments, in real-time, but the people who did not get to watch it live could watch the video later because it was automatically saved to the group. Finally, Rob did not have to take any notes. The video was saved automatically for anyone in that Workplace Group to watch later. Imagine the high quality onboarding that can occur for new engineers who join the Workplace project at ServiceRocket. They can watch this interview to understand the background and the "why" behind the Workplace platform strategy.
The Ask Me Anything
An Ask Me Anything (AMA) is a scheduled session during which the audience asks the subject of the meeting any question they want about the topic the subject is known for. Using Workplace live video, employees can plan to run an AMA at some future date and time that is announced and scheduled. To collect questions ahead of time, the executive can create a poll in Workplace and allow employees to suggest and vote on questions. Questions with the most votes get moved to the top and can be prioritized. Very little preparation is needed and the questions employees care about most are the ones that get answered. People watching live can comment on the video to ask followups, and those who could not watch it live, can watch it later.
The Field Reporter
Recently at our office in Kuala Lumpur, we had a glass door that was slamming shut each time people went in and out. To see and hear it, would make anyone think, "That slams hard. It's gonna break one of these days." One of our employees live streamed the door being opened and the slamming shut, then mentioned our facilities team who saw it and had it fixed by mid-day. Any other form of communication would not have shown the severity and urgency of the problem, especially not a help desk ticket. But I live video did. You could see and hear the problem. And it energizes a rapid response. Live streaming video is a great to report on people and events around the company.
Walk the Hallways
Managing by walking around has been a leadership tactic for many years inspiring managers to get out of their office and walk around the office to see what is going on and to talk to people. Imagine the executive who travels around to multiple offices to show her presence, meet the teams, and stay as connected to employees as possible. On these "whirlwind" tours, it is difficult to make real connections with people and share with the rest of the company how these visits went. But the executive who using her phone to live stream encounters with employees while she walks the hallways is a great way make a connection, share that interaction with the rest of the company, and have it saved in Workplace. One of the best ways to make these walk the hallway sessions effective is to have just two or three questions ready to ask everyone:
Tell us your name, role and team.
What are you working on?
What can we do better around here? (Or ask, "What fun things do you have planned this weekend?")
The point is to make a connection, get to know the person a little bit, and share the experience with others as a live stream.
Conference Time
When people go to conferences, there is an unstated expectation that they share what they learned after they get back to work. But sharing is not so easy. It requires a lot of work to type up your notes in a format that is consumable for the people you are updating. Then there is the matter of how to share it. Do you send an email? Create a presentation? Schedule a meeting? More than one meeting? This is beginning to feel like work...and I have actual work to do. Once people get back to the office, they get swept up into the flow of work and hardly ever share what they learned.
Sound familiar?
With live video, you can share what you learned at a conference, in real time, eliminating all of the follow up work. Here are three examples:
Rob Castaneda gave a talk at the Business of Software Conference, and Peter John Marquez, ServiceRocket VP of Products live stream it from the audience for all ServiceRocket employees to watch.
At that same conference, Rob live streamed a talk he found interesting.
After I returned from an Influitive Advocamp event in Palo Alto, I posted a live video to the entire marketing team what I learned.
In these three example, no notes were written up and the sharing happened in almost real-time.
The Big Announcement
Communicating a big announcement (or any important announcement, for that matter) is critical for executive communication. Too often, executives send out overly-worded emails devoid of meaning or connection between the announcement and what it means for all employees and the company. Streaming announcements is a way to speak directly to people in a more authentic way than a highly-edited written announcement. In just one example, Rob Castaneda used live video to announce our partnership with Workplace while standing in front of the Facebook sign in Menlo Park following one of his meetings there. Everyone at ServiceRocket could watch the video, ask questions, and otherwise engage with the announcement. It was also a way for Rob to explain the partnership in the context of the company's mission and values and what it will mean for teams that will or will not be directly involved.
The Prepared Meeting
One of the most overlooked video streaming opportunities is to broadcast a prepared meeting. Mostly when we think of meetings, we think about only inviting people who are necessary to attend. This might be a good standard to follow most of the time, but there are times when the subject and discussion of a meeting would be useful to others or would be more effective with participation from others. One example of this is a brainstorming meeting. Our product team has live streamed some of their meetings as they talk through product roadmaps and prioritizing what they should be working on. Very often during product meetings like these, people closest to customers (sales, support, customer success) are not involved. But they can be on a live stream, offering ideas, asking questions, and sharing customer comments with the product team in the context of their discussion. Ideas can shine and the product team could gain a new perspective on a problem by including people in their meetings who would not otherwise be included.
Live Streaming is Easy, Authentic, and Engaging
If poor communications is the silent killer of large organizations, then improving communications is critical to survival. With a tool like Workplace, companies can improve how people communicate with a tool that is familiar. In a highly distributed, mobile world, live streaming is a critical communications skill that leaders (and aspiring leaders) will need to learn in order to make connections between employees and the company mission.
---
See Workplace in Action
If you would like to learn more about what is possible in Workplace and see the product in action, join one of our Jam Sessions, called Workplace: Start Here. We run these sessions weekly and we show what is possible in Workplace and how you can use it in your organization to improve communications, bring people together, and get more done. Plus, these sessions are open, so you can ask as many questions as you want. Join one now.