Since teams and their projects are often spread across multiple Confluence pages and spaces, it can be difficult for stakeholders to easily track progress. Solve this problem by using the Team Homepage Template -- part of our new portfolio of Easy Dynamic Templates. Create a holistic, one-page overview that provides a framework for key information such as team members, project status, deliverables, success highlights and more. Accomplish more in a shorter time by allowing team members to create, collaborate, and organize all their team's work in one place.

Team Homepage by Easy Dynamic Templates
Scaffolding Forms & Templates' portfolio of predefined templates has a simple solution to view your team dynamics on a single live page. Team Homepage template will help both big and small teams, with a single view of all team member details.
Scaffolding's extensive array of macros easily captures Confluence data like usernames, roles, pictures, and even a small introduction of the team. From there, you can make easy and simple adjustments to the template like adding team members' availability during upcoming holidays. Capture live data via pick lists, drop-down menus, checkboxes, and more. Arrange fields on the page to create the look you want.
Want to Make a more Powerful Template Dashboard for your Organization?
Here are some templates that can be a good addition to your team's Dashboard on top of your newly created Team Homepage.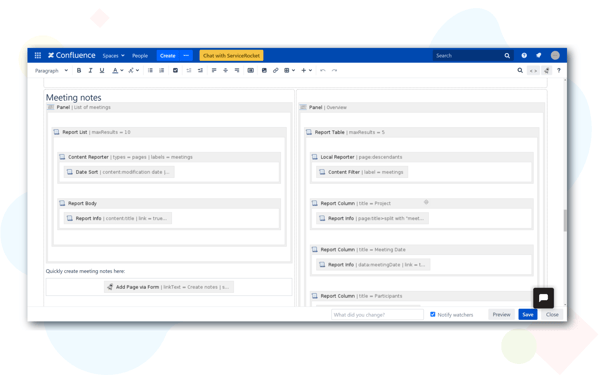 Wondering how to get started? Simply review our Live Demo of the Team Dashboard then start by introducing each of the required recipes into your instance.
Once your Team Homepage is in place, use the Team Dashboard template to bring your team experience to a whole new level.
To learn more about using templates in Confluence, check out our How to Easily Create Templates in Confluence and Improve Content Structure blog.
---
Put Scaffolding Forms & Templates to work for your teams today.

Start your 30-day free trial now.