This blog was originally published by Ted Mahsun on May 31, 2018. It was last updated by Gretchen Pawloski on September 8, 2020.
Managing content in Confluence is a common challenge for many Confluence admins, so it's no surprise it's a topic often covered in this blog. With a multitude of contributors creating and editing documents at the same time, content grows exponentially making it difficult for admins to track the status of a document, page or space.
Imagine you're the lead technical writer, managing a team of writers who are constantly editing documents in multiple spaces. As the lead writer, every time a change or edit is made, Confluence sends you an automated email notification, resulting in a very long list of emails to sift through at the end of the day. We've heard from many admins that this process is overwhelming and they want an easy way to moderate all that content and track changes directly in Confluence, and the ability to see it all on one centralized page. Wishful thinking? No, there is a simple, yet powerful solution.
Create a Content Moderator Dashboard
By combining the macros made available in these three Confluence add-ons by ServiceRocket, it's easy to build a one-stop Content Moderator Dashboard, like the example below, designed to work specifically for your use case.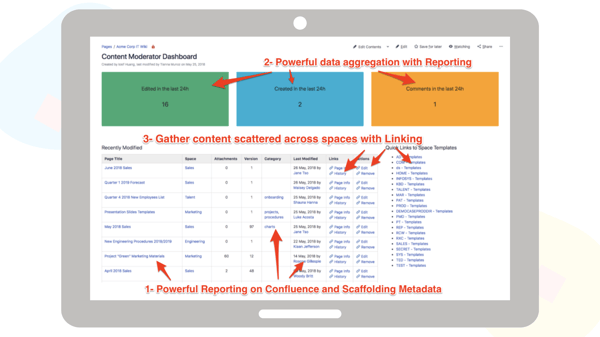 Turns Content into Actionable Data
Scaffolding Forms and Templates for Confluence's metadata, which lives within the page content, transforms information on Confluence pages into structured, actionable data that can be easily accessed, summarized and evaluated in reports.

Provides Powerful Data Aggregation
Reporting for Confluence accesses and aggregates metadata from page, user, space and even attachment properties and reports them in a customizable, structured and dynamic form.

Gathers Content Scattered Across Spaces
Enable one-click links to access Confluence templates, aggregate resources, and create structured content. Linking for Confluence ensures new Confluence pages are automatically standardized, categorized and properly formatted. Aggregate links from multiple resources and build homepages as jump-off points and navigation hubs.

| | |
| --- | --- |
| | For a step-by-step guide to building a Content Moderator Dashboard like this one in Confluence, visit our Use Cases page or try it out yourself at our Demo site. |
People love powerful, yet simple-to-use products that get the job done. We love building them.
We've got your back.
---
Ready to get started?

Learn more about Scaffolding, Linking or Reporting, start your 30-day free trial of all three apps today.