Many IT and support teams use Jira Service Management (JSM) as an internal and external ticketing system. In most standard workflows, these teams rely on customer feedback scores as operational metrics to measure their team performance.
While JSM has a built-in feature to send basic customer satisfaction surveys (CSat, rating 1-5), once a JSM request is closed, it has some significant limitations.

Surveys That Improve Feedback
Designed to help ITSM teams easily gather valuable customer satisfaction insights, Surveys for JSM by ServiceRocket provides processes and tools to run surveys seamlessly in JSM.
Net Promoter Score (NPS), Customer Satisfaction (CSat), and Customer Effort Score (CES) surveys are integral to understanding how well you are meeting customer expectations.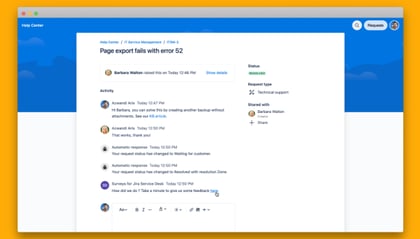 Instead of spending time on manually-intensive calculations of customer satisfaction metrics outside JSM, reports can be generated for every question. This allows you to track, measure and analyze customer satisfaction and provide feedback to all teams involved to improve processes, products and services.

Survey Feedback that Fuels Improvements
The survey response, which lives side-by-side with the actual request, provides in-context information to facilitate the internal review process. Quickly track review status and leave notes for your support engineers.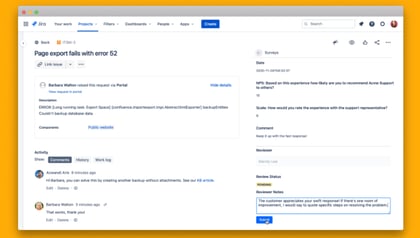 Reporting via our API allows you to create tailored scripts based on the type and scale of the questions, then extract the data automatically and keep your data warehouse up to date. Surveys for JSM makes it easy to track trends, you can quickly identify any areas of concern and take corrective actions.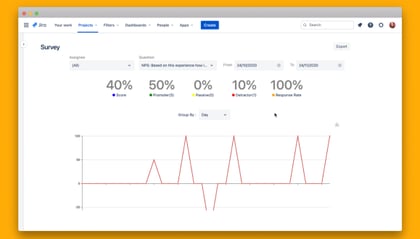 Surveys That Speak Your Language
In today's global organizations, all too often customers receive surveys that aren't in their native language. When customers don't understand the question, it's hard to respond.
That's why Surveys for JSM lets you customize questions and automate comments in 10 different languages including English (default), Spanish, French, Russian, Chinese (Mandarin), Arabic, Hungarian, Portuguese, German and Estonian. Need a language you don't see here? Users can ping our support team and raise a request.
Customizable Surveys to Meet Your Use Case
To make surveys more engaging, meet the mood of the moment by replacing standard rating icons with an icon more aligned to the survey. So whether your use case is a customer help desk, ITSM service desk or knowledge centered support, these fun customizations will improve your response rate.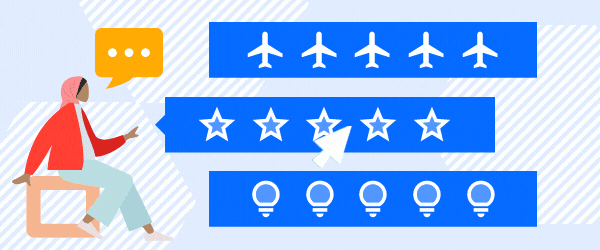 It All Happens within JSM
Improve the quality and volume of customer feedback with Surveys for JSM. Since everything happens within JSM, no third-party integration is needed. Leverage your investment in JSM to gain better customer feedback, respond more quickly to concerns and improve customer satisfaction.
Our customers love powerful,

yet simple-to-use apps.

We love building them.