So you've just started exploring the opportunities Atlassian products can bring to your business. Congratulations! They're fantastic out-of-the box, but did you know there's even more you can do with specific customizations? And you've guessed it, they come in the form of apps.
Only challenge: it can be overwhelming at first. Atlassian products are complex enough, and that's before you even start browsing through the 4000+ apps available in the Marketplace, all of which could help your business grow even more efficiently.
But don't worry! This guide will give you a much better idea of how to pick the right vendor, what kind of apps you can find there, which ones are truly valuable, and how to separate the general wheat from the chaff. But first things first:


What is the Atlassian Marketplace?
The Atlassian Marketplace is a platform that lets you buy apps to expand and customize Atlassian products. They are also known as add-ons or plugins. Some are free, and others are paid, either via a one-off fee or monthly payments. The Marketplace includes apps developed by Atlassian and also by third-party developers.
What kind of apps will I find?
| | |
| --- | --- |
| | All of the apps on the Marketplace enhance existing Atlassian products. At the time of writing, that means they will work with most of the main Atlassian products. |
As to what the apps do themselves, you'll find a huge range of categories, from document management to charts, messaging, or admin tools integrations, and much more.
How to search for Atlassian Marketplace apps?
The Atlassian Marketplace is well designed, which makes it super easy to browse and navigate. First, there's of course the search bar at the top of the page.


Search results aren't case-sensitive, which is great news for those of us who aren't so great at spelling. Then, you have the four main filters:
Sort: where you can choose the newest, top rated, trending, or top selling apps.
Product: filters apps based on which Atlassian product they enhance
Hosting: choose if you want apps that work with Cloud, Server, or Data Center
Categories: what business area you want the app to cover
Atlassian also highlights apps via staff picks, and there is also a "more filters" option, which lets you select apps that are:
From top vendors
From supported vendors only
Free
In Beta
As you'll notice, the vendor tags can be a bit confusing here. See below for more info on why there are supported and unsupported vendors.
A couple more notes about filters: some apps do not appear with any of the filters, so you'll need to look for them specifically via the search bar.
Also, don't forget to clear filters by clicking on the blue ticks, as they are automatically combined otherwise.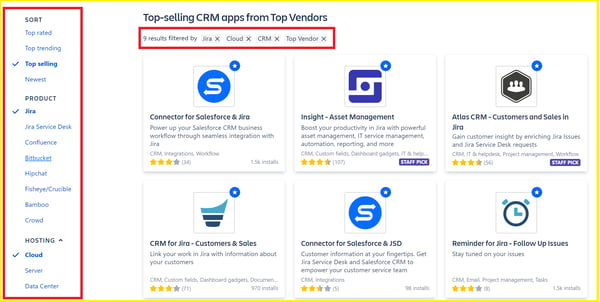 Why are there supported and unsupported vendors?
Good question. While Atlassian checks every entry in the Marketplace to ensure the app information is complete, the company does not actually test the apps. Unfortunately, that means some apps with poor code can actually damage your installation, or worse, act as malware against your company.
This is in part why Atlassian created the Top Vendor program. It helps you find vendors who have been shown to be reliable, to offer timely support, and whose apps meet a minimum threshold of installs. This Top Vendor program is changing soon, but we'll keep you posted about that!



What is the difference between an app, add-on, extension and plugin?
They're all used interchangeably. When the marketplace first launched, the name plugin was favored, but these days apps is the preferred term.
---
How to choose the right Atlassian Marketplace app?
Now we're getting to the fun part: finding apps that truly add value to your business. You might soon realize that even the best-selling apps aren't ideal for your needs. Or that you have a specific goal in mind, but can't be sure if the vendor is trustworthy. Here is how we would recommend you proceed:
Step 1: Pore over ratings and reviews
It may seem like common sense, but you'll need to spend a bit of time looking at the ratings
and reviews. And don't forget to check the total number of ratings too, as it could give you a better idea of the ratio between usage / satisfaction.
Reviews, meanwhile, are possibly the best way to gain insights about the product benefits, and to see it really relates to your business needs.
What's more, vendors can also reply to reviews, which is a great way to gauge the quality of their support and dedication. You can glean a lot of info about developers by reading how careful they are when replying to comments - especially negative ones.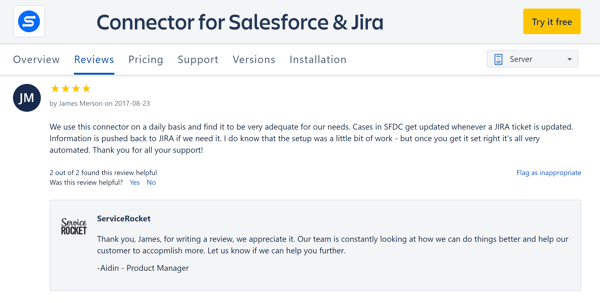 Step 2: Consider support quality
Speaking of customer service, Atlassian has designed the platform to highlight when it's great. Clicking the Support tab on any apps page will bring up a ton of valuable information.
Documentation and Wiki: great to ensure the app is supported by your Atlassian product. You can also get a sense of how often it is updated and if the documentation is well-written.

Support availability: ensure the support team operates in your time zone, or at least that there is some overlap with your business hours.
Step 3: Double check hosting options
This is a mistake many beginners to the Atlassian Marketplace make. Hosting options are an extremely important business decision because it's really not easy to switch once you've selected one.
When it comes to apps, vendors should clearly state which hosting version they will work with. You can also check the vendor's roadmap to see if they plan on supporting more hosting types in the future.
Finally, it's worth investigating if the vendor does offer plugins that work with other hosting options, just to ensure they have the knowledge and experience to deliver results.
Step 4: Always try first
You'll never be 100% confident that the app is perfect for your needs unless you try it. Luckily, the best vendors offer a 30-day free trial, which is the perfect way to ensure your add-on really delivers the goods.

Of course, not all vendors do offer a free trial, but it might be worth contacting them to see if they can accommodate your needs. Bonus points if you can find a vendor that offers support during the free trial so you can test both the product, and the quality of the customer service.
Step 5: Favor top vendors
We previously mentioned how Atlassian created a program to highlight its best vendors. The great thing here is that it's been carefully designed to vet developers who:
Create popular, high quality apps: there must be a minimum 500 active users of an app developed by a top vendor
Deliver great support: top vendors have repeatedly proven that their support answers are timely, and of high quality to users.
Demonstrate outstanding reliability both in terms of customer service, but also app support by keeping the apps up to date and meeting Atlassian standards.
You can find the list of full requirements set by Atlassian themselves here. As mentioned, this program will change soon but we'll keep you posted about that!
And it's also worth noting at this stage that the Top Vendor badge is a great way to discover new apps of high quality. You can rest assured you'll be using tools from a knowledgeable partner and vendor, often with apps that integrate with one another.
Atlassian Marketplace guide - Key takeaways
So there you have it! Hopefully, this guide gave you all the tips and tricks you need to get started with the fantastic Atlassian Marketplace. But just to recap, here's our quick guide in bullet point form:
Get familiar with the platform navigation (filters, vendor pages, etc..). That's just to make sure you don't miss out on any great apps.
Read the reviews and support pages. You'll learn about the app, its benefits, but also how good the developer, or vendor, is.

Support quality is primordial: the apps are easy to install, but getting the most of them with your integration could be challenging. So make sure the developer is there for you in case things go wrong.