Confidently share, access and restrict confidential information by using Security and Encryption for Confluence Cloud.
Cybersecurity challenges, ever-present for businesses, have been heightened by the pandemic and the resulting fast pivot to a largely remote work structure. Teams now communicate and collaborate on shared platforms, so security efforts must span across all mediums where work is done.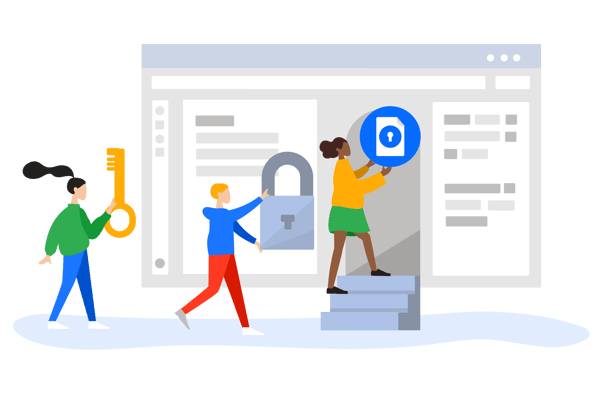 Use Industry Grade Encryption
Security & Encryption for Confluence's powerful end-to-end encryption keeps sensitive data secure, and allows admins to track user access with full auditing and reporting capabilities. Plus, it's built with features designed to ensure confidential information is secure in Confluence Cloud.
Solve your team's three main challenges.
1. Keep Highly Sensitive Data Safe and Secure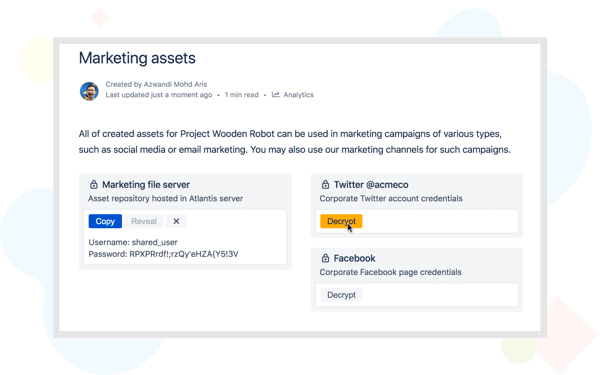 Use the Secret macro to encrypt sensitive data and display it as a simple inline button. Each macro can be set with a title and description for easy identification. Data is encrypted and decrypted at the client-side with industry-grade PGP and AES-256 encryption technology, hence no unsecured data is transferred over the network or stored in the server, which significantly reduces the risk of information leaks and system hacks.
2. Share Sensitive Data across Teams, Easily and Safely
With access control configuration, you can leverage Confluence groups or users to restrict access by specific groups or individuals to secured data. Create Secret macros anywhere in your space, then track all your secrets in one convenient place. Share links to these macros, instead of sharing sensitive data in plain sight. Projects keep moving ahead and human error in working with sensitive data is reduced.
3. Comply with Security Policies, with Confidence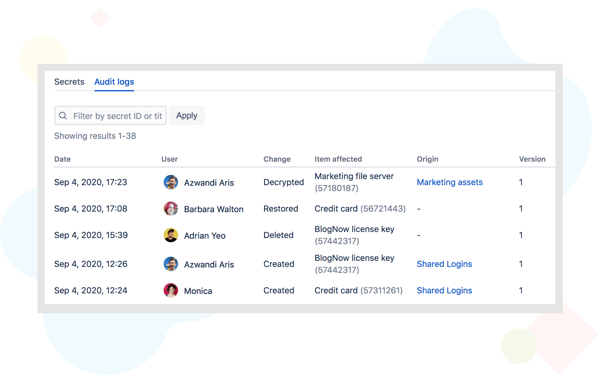 Easily track who created, modified, accessed, attempted, or deleted secrets, all from one centralized location within Confluence. With complete audit trails and one-stop access to all of this information, administrators can confidently audit activities around sensitive information. Teams, administrators and auditors gain peace of mind when it comes to security compliance.
The Workhorse App Every Confluence Instance Needs
It takes hard work to keep your sensitive information secure, so you need an app that works hard for you. Security and Encryption is secure, easy, affordable, available on all Atlassian platforms, and, dare we say, a must have for every Confluence instance out there.
Whether your use case is corporate password manager, license keys repository, information security policy, or asset management, keep your data secure and away from prying eyes. Security and Encryption gives your teams the confidence to share, access, and restrict confidential information freely as they collaborate in Confluence. And it's all backed by ServiceRocket's trusted, global customer support team.

People love powerful, yet simple-to-use products that get the job done. We love building them.

We've got your back.
Ready to get started?

Learn more about Security and Encryption for Confluence or start your 30-day free trial today.