his blog was originally published by Gretchen Pawloski and Connie Blaszczyk on July 13, 2020 and last updated by Gretchen Pawloski on 2/19/2021.
When people speak different languages, clarity of information can suffer. The same is true with workflows. Here's one example that may be familiar: your sales team uses Salesforce to manage customer relationships, while your tech team uses Jira to deliver the products and services your customers need. Unfortunately, the gap between Salesforce and Jira forces teams to constantly switch context. Manually-entered input leads to errors and added complexity. Poor visibility across platforms creates inaccurate case status and frustrated customers.
Effective cross-functional workflows require access to real-time information. That's why we created Connector for Salesforce & Jira—to give your teams a shared perspective of customer workflows.
ServiceRocket's Connector seamlessly maps Salesforce records to Jira issues, generating a single source of truth on the status of tasks—comprehensive, real-time information—across platforms. And with its easy implementation, users are often up and running in an hour.

Built to adapt to your business processes, Connector streamlines and integrates Salesforce and Jira cross-functional workflows, enabling everyone to collaborate on a common and tracked goal, with visibility into account interactions and changes in status as soon as they happen. With Connector for Salesforce & Jira, unreliable and redundant data is eliminated. Valuable time is saved by not having to juggle two separate systems for everyday customer management tasks. Your sales team can capture CRM data and close business without delays, while your tech team manages projects, tasks, bugs and issues that come from Salesforce to Jira without error or complexity. Greater transparency means that customer needs are met and exceeded.
" We see many Connector for Salesforce & Jira customers who are able to utilize the tool in about an hour. By integrating Salesforce and Jira, teams immediately see benefits like no more context switching, improved data quality, reduced friction and better cross-team collaboration."

-Aidin Mahmoodi, Product Manager, Growth.
Here's how it works
Bi-directional synchronization automatically enables your teams to collaborate without leaving the tools they're working in. Your sales team can generate issues in Jira from Salesforce; multiple cases can be mapped to a single Jira issue, and vice versa. No more context switching!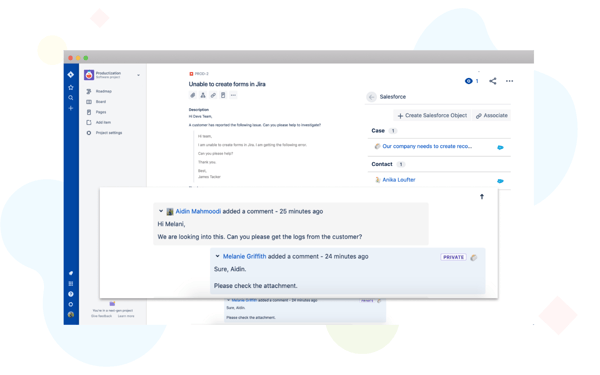 Automated workflows support your company's unique use cases with automation that reduces the need for manual data entry or human intervention.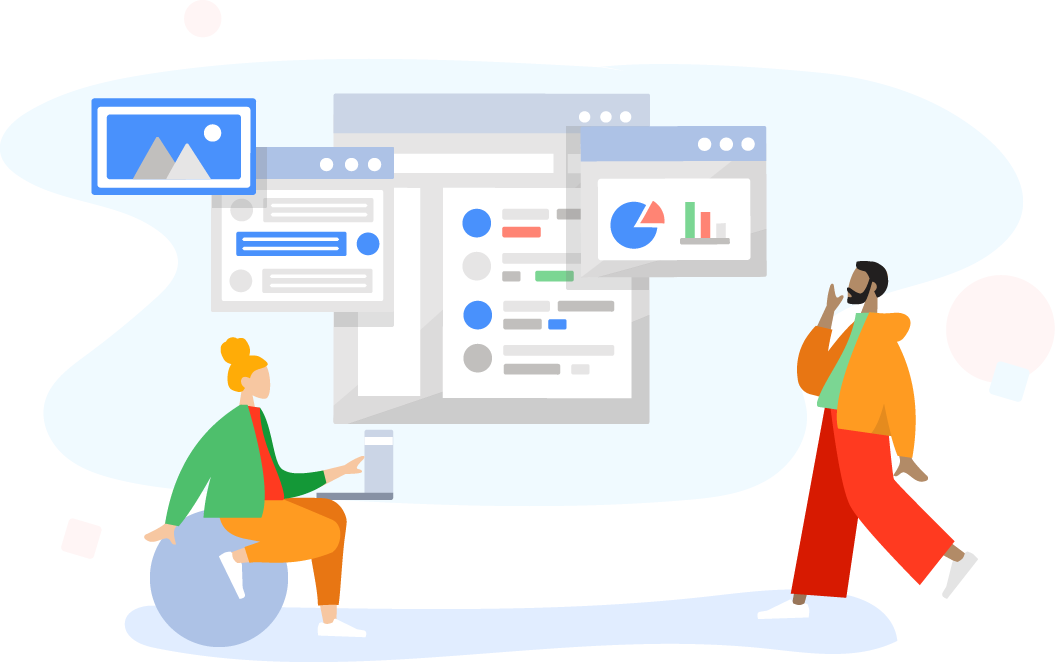 Two-way record creation and association ensures issues are kept up-to-date, consolidated and easily accessible. The right data is always available across both Salesforce and Jira platforms via:
Auto-synchronization
Salesforce Lightning enabled
Aggregated comments
Many-to-many associations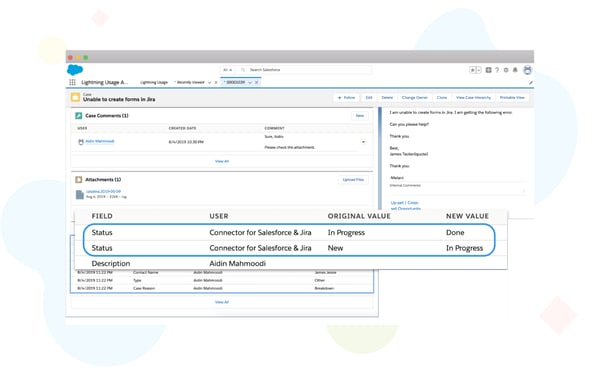 License consolidation helps reduce costs by optimizing the total number of user licenses you need to work within Salesforce and Jira.

Hundreds of global companies rely on Connector for Salesforce & Jira. And with ServiceRocket's responsive, global tech support, you'll quickly move past roadblocks, especially during evaluation and implementation.
Atlassian Marketplace Review

"The connector provides great functionality which enables us to link custom objects in SalesForce to tickets in our Jira Cloud site. Their support team was very helpful in establishing our connection and getting all the settings configured correctly."
Integrate Salesforce and Jira teams to exceed customer expectations. Ready to learn more about how it works? Check out our product page for complete details.

Close the gap between the products you love -- integrate Salesforce and Jira now.

Start your 30-day free trial today!