We started using Workplace by Facebook in early July 2016. It has been four months, so it seems like a good time to reflect on early results of our implementation and briefly discuss why we chose to implement Workplace by Facebook. And when you consider that ServiceRocket helps organizations adopt software tools like the Atlassian Suite, Puppet, Docker, NGINX and SauceLabs (to name a few) with training, implementation, and support services, it is also interesting to test our methodology on ourselves.
Let's start with the question, "Why did we implement Workplace by Facebook?"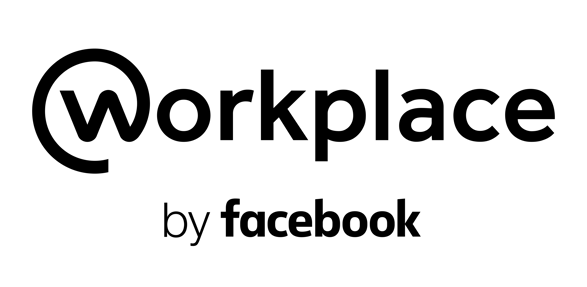 There is no shortage of enterprise communications and messaging tools, each of which has strengths and weaknesses in functionality, and when it comes to selecting such a tool, the decision often comes down to criteria other than features and functionality.
For example, at a high level, we chose Workplace because we believe our company values and culture align well with Facebook's mission to "give people the power to share and make the world more open and connected." In our business, we are always asking ourselves, "How do we communicate better, reduce friction, increase focus, and get the right data in front of the right person in a timely manner?"
If we are going to be successful in making an impact on our people, customers, and partners, we want to work with organizations whose purpose matches our own.
Once there is alignment, we can talk about the functional reasons for choosing Workplace. There are three.
Reason #1: Connecting people with a social layer on top of our work
The term "social" gets a bad rap at work. For many, the term implies frivolous, time-wasting fun. This is an erroneous assumption for two reasons.
First, people are social at work whether there is a social network or not. Where do you think the water cooler metaphor comes from? Second, well-cited evidence from the Gallup Organization on high performing organizations shows that employees who are engaged say they have a best friend at work. In fact, Gallup found that "close work friendships boost employee satisfaction by 50% and people with a best friend at work are seven times more likely to engage fully in their work." Any attempt by organizations to discourage socializing will likely lead to disengaged employees.
Not only should organizations not be afraid of a workplace in which people socialize, but they should make it as easy as possible for employees to interact with each other. When you consider we have offices in Kuala Lumpur, Palo Alto, Santiago, and Sydney (not to mention Rocketeers who work at home in a few cases), Workplace helps us reduce the friction in employee interactions and relationship development.
One final point I want to make here. Even though I used the term "social network," I do not think of Workplace as a social network. In my view, it is a communications and messaging platform that allows us to communicate better, with less friction, and get the right people talking about the right things, at the right time.
This brings us to the second reason we chose to adopt Workplace by Facebook.
Reason #2: Messaging and communications
We deliberately built a company with distributed offices in four countries as a means for continuously supporting customers and finding the talent needed to drive our mission of helping companies adopt disruptive enterprise software.
In order for this distributed strategy to work, communications must be the glue that binds everyone together. In fact, an open and frequent communication flow is the only way this strategy can work.
For example, when a member of the executive team wants to deliver a message, Workplace makes it easy.
Communications can be delivered in three ways.
Executives can post an update in text form to communicate any message they want. Employees can comment on it and executives can follow up, clarify, or otherwise continue the conversation.
Executives can comment on other posts. This has the potential to be even more powerful than an original post from an exec. Imagine the impact a CEO comment can have on a post from a front-line employee, when that CEO comments, "I am excited to read how you took a values-driven approach with that customer. Thank you."
Executives can post a video selfie to communicate any message. Our smart phones and mobile apps are making it easy to record high-quality videos and upload it for all employees to watch (and interact with). The video selfie can help CEOs (or any executive) ensure their message is getting across to employees directly, without the filters of management layers and communications teams that can change the message with each layer it passes through.
Executives can post recordings of all-hands company meetings to ensure everyone can participate. Q&A can occur asynchronously in the comments, which is not practical in an in-person meeting.
One of the biggest challenges of executives teams is getting their message(s) to everyone in the company about the vision, mission, values, and direction of the business, and to engage people around those messages. After all, research shows only 37% of employees say they have a clear understanding of what their organization is trying to achieve.
That is not good.
Reason #3: Work. Yes, actual work
In the early days of enterprise social networking (back in the olden days), the main problem with achieving widespread adoption was that enterprise social networks seemed like a place to communicate separate from work. It was another place, in a sea of "software places" to do work. When we implemented Workplace, we knew it could not be just another place to communicate. It must be a place where people collaborate around their work. One of the first things we did was create groups for each team and groups for projects.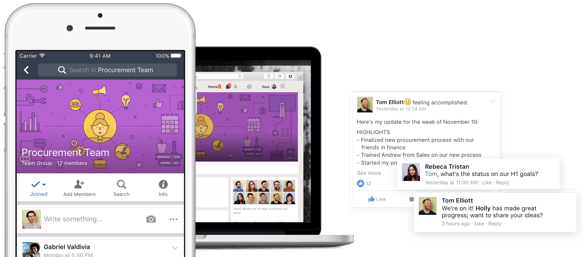 In Workplace, people not directly involved in a project can follow along and even contribute. New ideas from new sources started bubbling up with engagement in the form is "likes" and "comments."
We are already seeing other use cases forming, but the above three reasons are the main ones driving our selection of Workplace. And we are seeing positive results.
Workplace by Facebook is the new workplace
Although it will take longer than four months to know whether Workplace will help us improve our business, there are some encouraging results. In the first month, our adoption looked like this:
98% of employees invited to Workplace by Facebook claimed their new work account.

87% of employees added a profile picture.

Three quarters of all employees are active on a weekly basis.

53 Groups have been created and 45 have active participation.

One all-hands company meeting was recorded and posted. In the first 3 days it was viewed 175 times, had 27 likes and 23 comments from employees in all four offices.
While these are activity metrics, likely the result of the initial launch of the new tool, the speed at which we launched is encouraging. It also shows the demand our people have for connecting and sharing work with each other. But as we know, success is not self-sustaining. It requires care and feeding. Accordingly, we will continue to post updates to share with you our journey. These updates will become more specific over time about how we are working in Workplace. And hopefully, the lessons we learned from our own implementation, will be helpful to your own.
Workplace by Facebook is our new workplace.
---
Implement Workplace by Facebook in Your Organization
We believe so much in the power of Workplace to help create open and connected workplace that we help our customers implement and adopt Workplace. If you'd like to learn more about how Workplace can help improve performance in your company, contact us.