At ServiceRocket we've embraced one thing above all else - helping.
Now wouldn't the world be a better place if we all did the same?
Take a minute here and think about it. An amazing thing happens when one person makes an effort, even a small one, to improve something beyond themselves.
You help, you grow.
The phrase "the gift is in the giving" holds true weight. When you give, you receive. We are changed by helping one another.
So when we say "helping sells", we really mean, helping makes you better. And when you're better than the rest, deals follow.
As this amazing, challenging and fulfilling 2015 draws to a close, here's our effort to help make you full of smiles. We wish you and yours a very Helpy Holidays.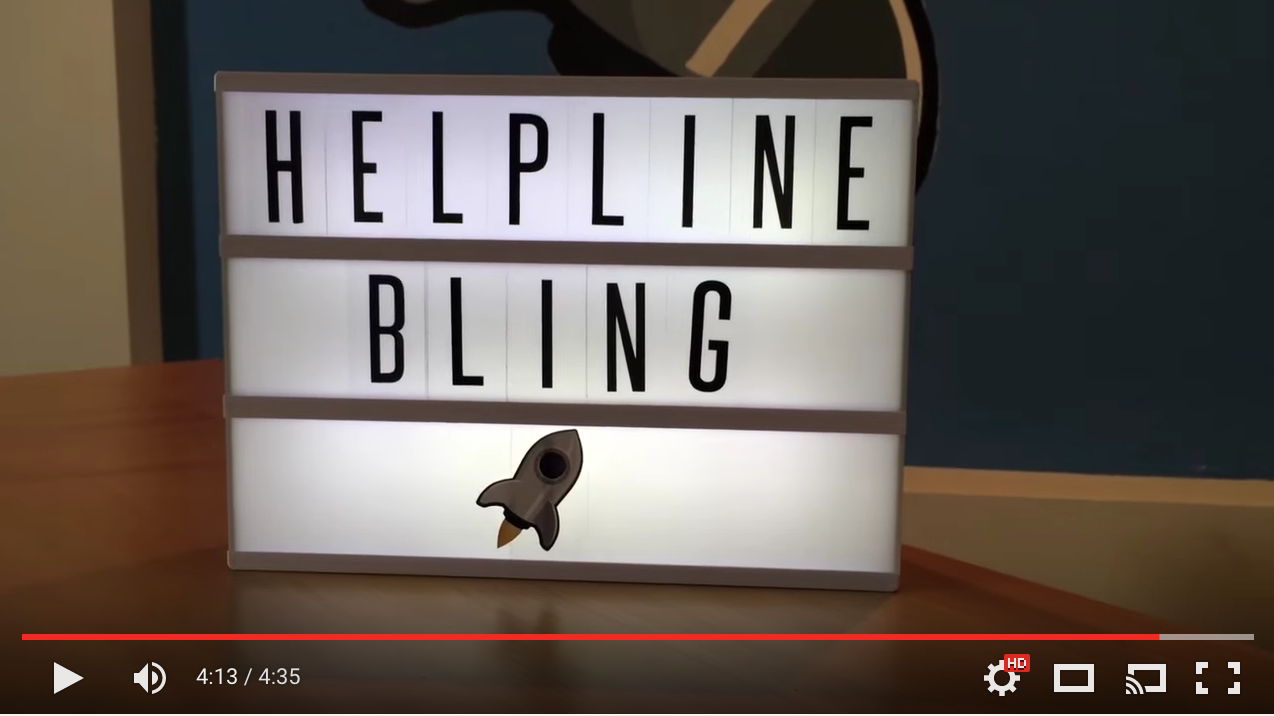 ---
Lyrics to Helpline Bling (by Daniel Luebke and Sarah E. Brown)
(You used to call the ol' support phone, you used to, you used to Yeah)
You used to call the ol' support phone
Late night when you needed help
Call the ol' support phone
Late night when you needed help

I know when that helpline bling
That can only mean training
I know when that helpline bling
That can only mean training

Ever since you 'dopted that technology
Got a reputation gettin' work done
Software trainin' got you empowered now
Workin' as a team, you never stressed out
Cause ever since 'dopted that technology
Started less tickets using tools mo'
Glass is half full on the call center flo'
Value out'a software I never seen befo'

You used to call the ol' support phone
Late night when you needed help
Call us on the support phone
Late night when you need that help
I know when that helpline bling
That can only mean training
I know when that helpline bling
That can only mean training
H
Ever since I closed that ticket you you you
you and me we just get along
you make me feel like I didn't do no wrong
Closing issues that just don't belong

Ever since I closed that ticket you
You got exactly what you asked for
Maxing out issues in your JIRA
Running to adoption like I never seen before

You used to call the ol' support phone
Late night when you needed help
Call us on the support phone
Late night when you need that help
I know when that helpline bling
That can only mean training
I know when that helpline bling
That can only mean training

These days all I do is
Wonder if you share that knowledge with someone else
Wonder if you got Agile for someone else
Method I taught you - closin' tickets for someone else
You don't need no one else
With a team, nobody else, no
Why you never alone?
Why productive not slow?
Used to call the support phone, be a power user
Be in the zone … (yeah)
You should just take a break
Vacay, no issues late.

You used to call the ol' support phone
Late night when you needed help
Call us on the support phone
Late night when you need that help
I know when that helpline bling
That can only mean training
I know when that helpline bling
That can only mean training