As we celebrate the 10-year anniversary of our office in Kuala Lumpur, we thought we'd take the opportunity to reflect on our decade in Malaysia.
ServiceRocket's presence in Kuala Lumpur began in December 2005. What started off as one employee working out of a local Starbucks has grown to more than one hundred employees in our KL office alone.
A year after establishing our office KL, we moved in to Plaza Sentral, occupying a single lot with a space of 2000 square feet, and we grew to over 20 employees in 2008. Today, we occupy five times the size of our first office space, with a local tea2m seven times the size of our original office.
Some highlights from our amazing journey:
Our culture changed but our values did not
At ServiceRocket, we live our values. While our values haven't changed along our ten-year journey in KL, our cultures have shifted from formal and fixed hours to casual and flexible hours. As we grow, we'll hold vast to our values while our cultures grow and evolve with new Rocketeers.
Our business model with software companies gave us opportunities to work with leading Silicon Valley software companies
We now work with partners including Atlassian, Puppet Labs and Docker, and members of our KL teams help enable some of the hottest Silicon Valley software technologies through support, services and training.
We rebranded from CustomWare to ServiceRocket
In May 2013 we embraced the name "ServiceRocket" to more fully reflect our diverse products set and services that help software companies scale to the enterprise.
We celebrated the 100 employee milestone
We wrote a blog about this big day on September 3, 2014.
We built an entire Engineering team in KL
Our KL engineering team is now a size of 25 strong members including 2 interns and still growing. Our KL engineers work with other Rocketeer engineers around the world, knitting together a global fabric of technical expertise and design knowledge.
Winning Gold in Employee Engagement Award in 2013
In 2013 the ServiceRocket Kuala Lumpur office was awarded first place for Employee Engagement by Human Resources Magazine of Malaysia.)
Best Companies to Work For In Asia Award in 2014
We proved to be a great employer winning the Best Companies to Work For In Asia Award in 2014.
Our engineering team celebrated 2015 Brandon Hall Recognition for Learndot
We wrote about the recognition here.
Initiated Technology Bootcamp in July 2015 contributing to upskilling the workforce in Malaysia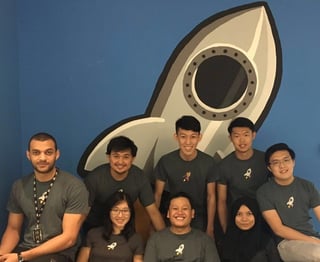 In 2015, we launched a technology bootcamp in Kuala Lumpur to help people learn some of the fastest growing, emerging technologies from Silicon Valley among other valuable technology skills. In our Bootcamp, we will incorporate soft-skills and technical skills that are required to be successful in ServiceRocket. Learn more about our Bootcamp.
We started knowledge sharing, giving Tech and Career talks to the public in our office
Look for more to come as we bring innovators and thought leaders to heart of "Tanah Melayu."
Thank you for joining us along the ride! Here's to the next ten amazing years!