ServiceRocket hosted a Women In Technology panel in Santiago, Chile featuring two of Silicon Valley's Women of Influence: ServiceRocket's COO, Erin Rand and VP of Marketing, Colleen Blake who was also named one of Silicon Valley's top 40 Under 40.
Rand and Blake discussed their experiences building careers in technology, developing their leadership styles and lessons they've learned along the way. The audience from Santiago included both technical and non-technical women and men from Women Who Code Santiago, Startup Chile, <laboratoria> and other organizations who were interested in learning how to develop their career paths in technology.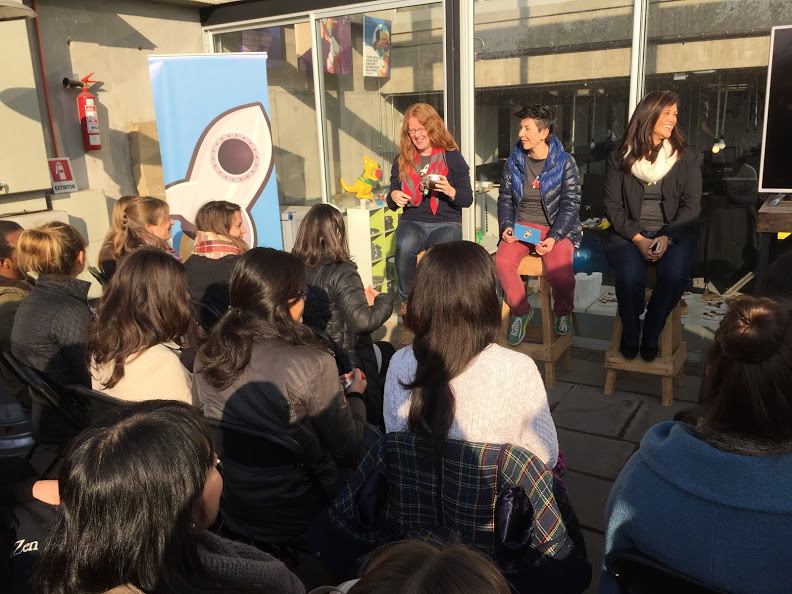 Overcoming Challenges In A Technology Career Path
Growing up, Rand said she "never had a filter on what [she] could or couldn't do." In young adulthood, she was surprised to discover that people suddenly expected her not to be good at math and engineering because of her external appearance.
"It was so foreign to me at the time. I was a girlie girl in the 80s taking computer science in high school learning BASIC. I thought it was cool," said Rand.
Rand described the cumulative effect of being undermined in leadership roles due to appearance and how difficult yet important it is to continue to be and prove yourself in those situations.
Both Blake and Rand shared that they faced bias in their careers based on external factors. Blake shared a story of a woman who was wearing a dress suit in the office and decided to change out of it into jeans and a t-shirt before a team meeting.
"She thought they wouldn't take her seriously in a dress," said Blake.
"At first I thought, why are you doing that? But I think she was being smart for understanding the environment she was in. She was working that particular system because she knew this group of individuals would only take her seriously if she dressed like them and she decided to play the game that way," said Blake.
Growing Awareness Of Bias On Conscious Career Paths
Rand and Blake discussed following their passions in their technology careers while facing and overcoming biases in the industry. As a mother of young daughters, Blake grew aware of bias when working in IT and taking her first maternity leave. At the time, a C-level employee expressed "great, unwarranted, inappropriate concern" about her maternity leave. Blake shared that this experience sparked consciousness around challenges that both men and women face in the workplace.
"It's not just women–men face it too for taking care of either a child or an elderly parent," said Blake. "Talking about this is the first step as part of that awareness and continuing that conversation to become more consciously aware of what's going on."
Rand recalled her growing awareness from the first time she saw a woman CTO who had a background in a "hardcore electrical engineering" company and seeing how men and women respected her onstage.
"That surprised me, but it made a difference in how I felt about myself," said Rand.
Rand and Blake discussed the importance of continued conversations about increasing awareness about bias both in Silicon Valley and worldwide.
"It's better because people are talking about it," said Blake. "If you don't talk about it, biases persist."
Developing Unique Leadership Styles Anchored In Individuality And Core Values
Rand described reaching a point in her career where she held management and leadership roles and then young people started seeking advice as to how to emulate her career path, especially young women who were looking for advice.
Erin shared: "They'd say, 'Erin, people are listening to you and you're a woman. You're calm, firm, and yet people listen. How did you do that?'"
Men and women came to Rand wanting to develop their leadership style. This was a wakeup call to Rand to start sharing more about her leadership style and explicitly provide mentorship around it.
Another leadership awareness moment was when Rand agreed to do a series of women's events as a favor to a friend.
"At first, I said, 'absolutely not'. I get asked to speak on building companies, managing risk, turning things around. I don't speak on women's topics," said Rand.
When women kept coming to Rand asking for mentorship, she realized that there was such a hunger for it.
"So many women who'd come up to me asking for things I'd been through. These were things I'd figured out."
Rand realized that her experiences were especially valuable for women forging similar career paths in the software field.
"I resisted at first because I didn't want my entire personal brand to be about one issue. I have a lot of expertise in the business world and tech world to give. At the same time, I've had a journey that I would love to talk about with women and men if it makes a difference," said Rand.
Defining Their Approaches To Leadership
Blake realized early on that part of her leadership style stems from her mission to help grow, nurture and develop people.
"In my leadership style, I keep that in the back of my mind as I'm working with teams whether they report into me or not or they're people I partner with," Said Blake. "I look at impact in the long run vs. my own individual agenda. I don't consciously "not be" like a male stereotype."
Rand shared that she and Blake had worked together during various points of their career, and that it's important to find people with whom you truly enjoy working and mutually respect and admire.
"When you find people you like to work with who get things done and you enjoy working with, bring them on your journey. Find ways to work with them again because it makes all the difference," Rand advised. "You need a team that you believe in and trust and you can work with."

"It's not just about the how we're doing it but why and what we're doing it for," said Blake. "That's a big part of conscious leadership: focusing on the outcome."
Embrace Your Unique Strengths
Rand shared that promoting individualism and freedom not to be put in one box or category is the ultimate goal of creating a technology industry more reflective of the talent pipeline. "To me, it's not about 'men are better at this' or 'women are better at that,'" Said Rand. Rand shared that even so-called positive attributes shouldn't be applied to everyone in a group. Rand recommended that women and men seek to be individuals and see others as individuals. We each have strengths and weaknesses, and it's important to find our unique leadership styles that play to our advantages.
"Go ahead and go to that lego engineering fundamentals class, even if you'll be the only girl," said Blake.
Blake shared that women now can get to be the pioneers and go down the "unbeaten path" as a leader or spokesperson. Rand advised not to hide unique strengths or individual advantages.
"Use whatever assets you have and be proud of what makes you uniquely talented," said Rand.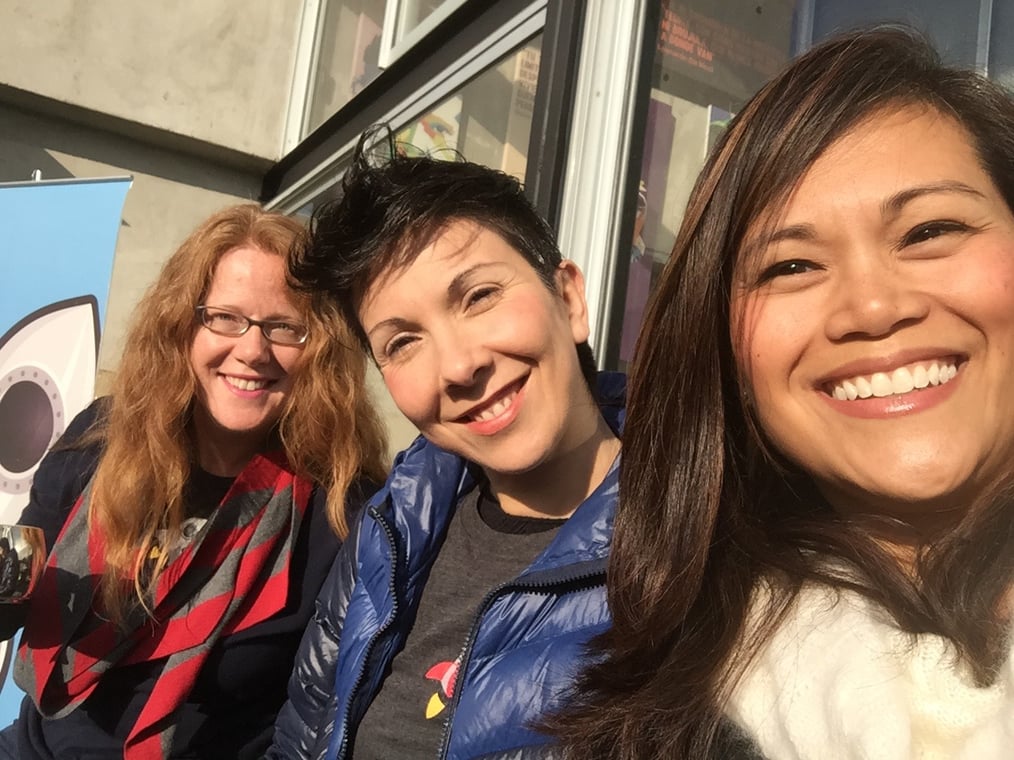 Aim For Work-Life Integration, Not Balance
"Find what you're passionate about so work will seem less like work," said Rand. "Surround yourself with people, activities, and things who support you."
Blake shared the importance of focusing on "work-life integration vs so-called "work-life balance".
"Balance implies there's one side losing out over the other," said Blake. In order to align work and life, Blake suggested finding work that you're passionate about, then setting boundaries and living up to them.
Rand and Blake both emphasized the importance of finding a company that supports the same values that you have. Having that support structure makes it easier to live up to those boundaries and expectations.
"You get so much more control when you reach a level where you set agenda," said Rand. "Don't pull yourself off the track."