The internet is filled with stories about how business departments have trouble working with each other. Whether it's the IT team frustrated with marketing, or product development that ignored engineering or technical support, working in silos can be a problem. And customer education pros are no different.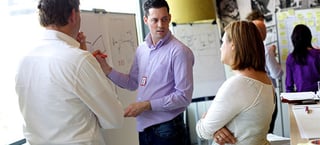 Yet when it comes time to promote your training programs, course you have spent so much time crafting and developing, you often forget work with marketing to get the word out. This results in lackluster attendance that leaves you wonder whether anyone sees the value in the customer education you offer. Your team crafts helpful and engaging training, so why not let the marketing experts in and let them promote it. right?
To avoid any issues or missteps, we've created this checklist customer education managers can use when collaborating with marketing on the promotion of their training programs.
Simply run through this list and pull together some basic information for the marketing team they can use in their promotion planning and execution.

The Customer Education Pro's Checklist for Marketing Training Programs
Who is the target audience of the training program? Customers, prospects, etc.? If possible, give job titles and/or short descriptions.

When is the training program being launched/re-launched? Send an actual date or time frame.

What is the motivation for someone to take the training? Is it simply to learn something new for themselves, to be able to teach to others, do a specific job better, etc.?

Are there any special words or language that the audience uses that would be helpful in marketing it? E.g. keywords, terms, etc.

Is the training available multiple times or is it just a one-time session?

Does the training build on any other training the company has available right now? E.g. is it the advanced version of a program, or a complementary program for those who've taken another program?

Can learners take the program more than once?

What's the price for the training? Are there any discounts available?

What kind of support will learners receive? Online, phone, forums, etc.?

Can learners apply/transfer this program to any certification programs available through higher education institutions?
---
If you found this checklist useful, and you want to strengthen your relationship with marketing even further, you could also help marketing come up with ideas for promoting training. In last week's blog post, 6 Short-Term Training Promotions Strategies to Increase Enrollment, will give you some ideas that you could share with your marketing team. Read the blog now.