With the rise of 'as-a-Service' (or XaaS) products around the world, software companies are becoming more aware of the importance of customer education. They're seeing the direct impact of education on company and customer success. "Education Services organizations truly have the opportunity to be a game-changer in driving product usage and adoption, because training is at the core of both," according to Maria Manning-Chapman, vice president of education services research at TSIA.
In our Software Adoption Crash Course for Customer Education Leaders webinar, Maria spoke to Bill Cushard about how customer education (CE) is in the prime position to drive product adoption in today's busy tech-filled world.
Education speaks to everyone, all the time
CE teams are one of the few in any organization that speaks to all customers, all the time. Whereas other teams in your organization rely on the 1-to-1 education model (think sales, professional services, and even support), CE teams are a 1-to-many model. Their work is never done, even after the sale, after the implementation, after they've answered a customer's question.
The two levels of content adoption
When it comes to producing content for their customers, CE pros should focus it on two levels, according to Maria: the account level and individual level. Account level education is more broad, as you're trying to get as many of your customer accounts consuming content; individual level education is measure of how much each individual at each customer account is consuming. You're looking at the type of content they're consuming, when they consume it, how long it takes, etc.
"Education is like sales," Maria said. There needs to be a lot of touch points between CE and customers in order to influence product adoption. It's a case of going both broad and deep, Maria explained, so that you're touching as many of your customer accounts and individuals as you can, creating and fostering engagement with them. The engagement is what drives the product adoption.
How education influences product adoption
There have been numerous studies done about how product adoption rates are affected by education, including TSIA's Quick Poll in 2016. They found:
68% are able to use the product more

56% use more product features/functions

87% work more independently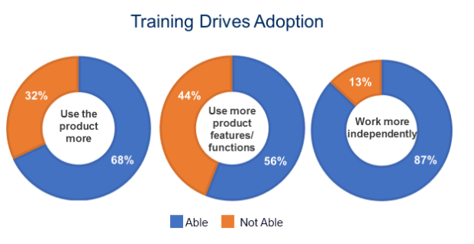 Credit: TSIA - Gauging Value: Answering the Training/Adoption Question
The adoption curve
Organizations that have a customer success (CS) function may be familiar with this curve, as it outlines how customers progress from newbies all the way to product experts. The product adoption curve mimics the CS success curve, increasing engagement with customers as they progress through their adoption.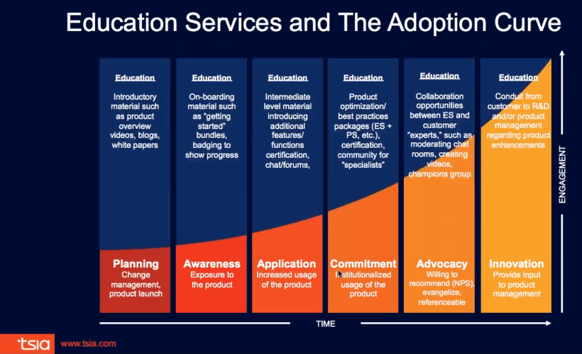 Credit: TSIA/ServiceRocket webinar
Engagement with customers doesn't have to be through an official learning "event" like a course or class, Maria explained. Any time you can provide useful information to customers so they learn something, do it. It could be a short email, forums, videos, etc.
Two tactics that appear to have significant impact on customer education are social learning and badging, which can be woven through the entire adoption curve/journey. One TSIA member noted an 87% increase in engagement, a 64% increase in product trials, and a 694% increase in education program completion by implementing badging in their education programs.
Fill in the white spaces
"Education is never one-and-done," Maria explained. "It's about continuous engagement." Customers can engage how they want to if you have everything available to them. Maria calls this "filling in the white spaces". Any time an education event is finished, regardless of format, it's a white space. Interactive content is key to keeping the relationship alive and increasing engagement with those customers.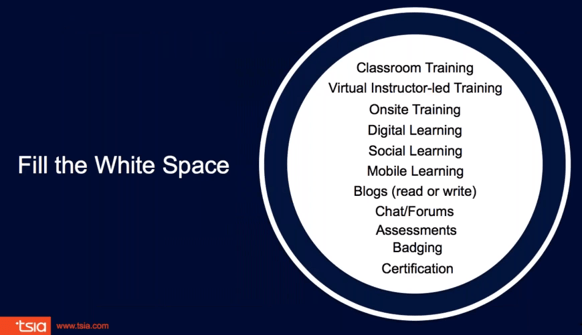 Credit: TSIA/ServiceRocket webinar
What metrics can CE track for product adoption?
Tracking product adoption due to CE efforts is important from both a content production perspective, but also for reporting purposes. It's always good to have some metrics you can produce whenever upper management asks for the ROI on customer education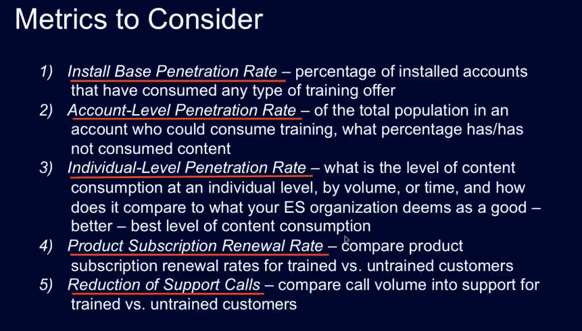 Credit: TSIA/ServiceRocket webinar
By relating the education metrics (Install Base, Account-Level, and Individual-Level Penetration Rates) to other business metrics (Product Subscription Renewal Rates, Reduction of Support Calls, and more) CE managers can see the affect their education work is having. It helps them understand how their work impacts the business as a whole.
---
Over to you
Customer education can take many forms and still have a significant impact on product adoption rates. By taking a closer look at how it can impact adoption, CE managers can gain a better understanding of how their work contributes to overall business success. It can also give them a better understanding of their own work and help them demonstrate value to the organization.
Are you noticing a difference in your customer engagement and interaction as a result of your customer education efforts? Share in the comments below.
To hear the full webinar with Maria, click here.