The stand-alone conference is one way to engage learners outside of the classroom and gather like-minded people for networking and knowledge sharing. This is a the more 'traditional' or 'standard' type of event, where a company holds sessions on their topic of choice and invites subject experts to give talks and seminars on them. Think HBaseCon from Cloudera, MuleSoft Connect from MuleSoft, and Couchbase Connect from Couchbase.
A conference-within-a-conference is a relatively new thing, where a company takes advantage of the gathering of attendees to host a related conference on a related topic. ServiceRocket is doing that this year at Gainsight's Pulse Customer Success Conference this year, hosting the Business of Customer Education. Fast Company does it with their Fast Company Grill at SXSW.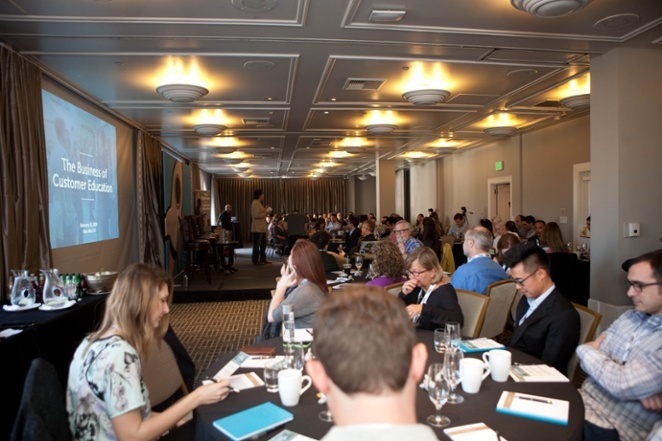 A scene from last year's Business of Customer Education Conference
Some companies are creating a branded learning smartphone app and pairing them with their LMS's. Best Buy did that recently with Gravity, an app-based training tool for their sales associates. Associates use the app to scan a UPC for products while they're out on the floor and the app returns bite-sized pieces of information on the product.
Another new innovation is to partner with an online certification service like Credly and issue badges to learners as they progress through their learning journey. Employees will get fun, tangible ways to demonstrate their learning, which keeps them engaged and excited to learn.
Connecting workplace learning with colleges and universities is another way to keep learners engaged. The American Council on Education (ACE) recently partnered with Credly to issue digital credentials to working professionals who request academic credit for their workplace training. They can use these credentials to continue their education in an academic setting, something that was difficult for some employees and required for many academic programs. They can also use it as formal proof of their credentials, showcasing their accomplishments through professional networks online, include in job applications, online portfolios, and more.
Centralizing all learning into a branded hub or "university" is another great way to promote enterprise learning and encourage learners to continue their education. Gainsight does this through their Customer Success University, creating specific learning streams for customer success professionals, including certifications and live events. SAP's Learning Hub centralizes all SAP training streams, publicizes information sessions, and is a one-stop-shop for prospects and customers to book demos and information sessions about SAP, their learning products, and technology products.
Now It's Your Turn
We'll be talking more about the innovative ways training professionals are keeping learners engaged outside of the typical classrooms (virtual or otherwise), and we'd love to hear your suggestions. Share your experiences in the comments and let us know what's going on in your world. Don't be shy, feel free to share both positive and negative experiences, since not every idea is going to work in all situations. We want to hear it all.