We are thrilled and honored to share that Learndot was named one of the 2019 Best Corporate Extended Enterprise Learning Systems by Talented Learning.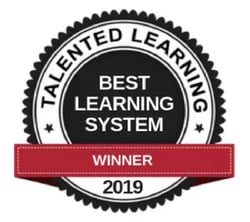 This is a great recognition for the relentless work we put day in and day out in evolving our platform to meet the ever-changing market needs. It is also a great validation for all of our customers who have entrusted us with building and supporting their customer education operations.
As John Leh, the CEO and Lead Analyst at Talented Learning states, Learndot "is designed specifically for organizations that create and deploy content to B2B and B2C customers, integrate learning with CRMs, and use measurable analysis to improve related business results on a continuous, iterative basis." What sets Learndot apart is not only delivering a full-featured, robust LMS platform, but also providing customers with "strategic guidance, deployment expertise, content development and ongoing managed services to fill the resource gaps that many customer education organizations face."

As John Leh mentions: "More than 750 learning system solutions are on our radar, currently. Selecting winners is no easy journey. Being on this list is a big deal." And, we couldn't agree more. Being named the best out of over 750 learning system solutions is a HUGE win for us!
Thank you for the great recognition, John Leh and Talented Learning!
About Talented Learning
Talented Learning, LLC is an independent research and consulting firm devoted to helping organizations of all sizes choose and use LMS solutions and related technologies for their unique business needs.