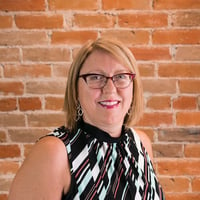 Amy Mustoe
VP of Customer Success at Cloud Elements
Customer Success veteran Amy Mustoe is an expert at building Customer Success functions from the ground up. At companies like SendGrid and The Reed Group, she created teams responsible for delighting customers–and generating millions in revenue. In this episode, Amy joined us to discuss how she's building a Customer Success function at Cloud Elements incorporating lessons learned from her past roles, and baking customer education and enablement into her team's success strategy.
Amy Mustoe is a Customer Success expert who is currently Vice President of Customer Success at Cloud Elements. Prior to her current role, Amy led customer experience departments at SendGrid and The Reed Group. Amy frequently speaks at industry conferences and events about how SaaS companies can grow their businesses through Customer Success.
---
#HelpingSells Ep. 32 | @AmyMustoe of @CloudElements On Building #CustomerSuccess From The Ground Up. https://ctt.ec/4la08+
---
Announcing the Business of Customer Education Conference 2017
It's that time of year, the return of the annual Business of Customer Education (BOCE) conference. ServiceRocket is proud to be teaming up with Gainsight to host BOCE as a conference within a conference. This year, BOCE will be held at the Pulse Customer Success Conference on May 9-11, 2017. Save the date!
On building a Customer Success team from scratch: Segmentation is Key
Amy oversees support, professional services, and customer success–essentially everything post-sales at Cloud Elements. Who owns renewals?
There is a piece of post-sale Customer Success collaborates on with sales at Cloud Elements. At SendGrid, CSMs did renewals, expansions and upsells post-sale. This required hiring a CSM who was very good in all of these areas: relationship management, onboarding, and expansion.
At Cloud Elements, Amy has broken out the different goals of CS and sales teams and collaborates in areas where they should. They now have onboarding that takes care of sale until that first "aha!" moment of the customer seeing value, then the CSM takes over. Then, if it's a simple renewal CSMs take care of it at Cloud Elements but depending on how strategic the account is, they assign an account rep to work on add-on and growth.
There are two parts to growth at Cloud Elements: (1) Growth in terms of product use and organic growth and (2) the add-on sale; the more pieces of the product customers can find value in - that's where sales bloom.
Increasing customer value
At Cloud Elements, an API integrator, they break things into hubs - application providers have customers that want to integrate data with other types of marketing or CRM systems. Companies request various "elements" (e.g., the ability to offer to their customers to use an integration to a CRM, etc.) The other piece, or "growth" piece is once their customers start using that element, if they are successful getting their customers to see value (OEM agreement - my customer's customer has to be successful in order to see add-on revenue). That's why it's so important the customer finds value: expansion only happens if the customer sees success.
Strategies to decrease Time to Value: Customer Enablement
Cloud Elements raised 13M Series B and Amy joined because of focus on Customer Success and helping customers find value in products. Amy took her team from 8 individuals to 15 individuals in four months, staffing the team with more CSMs, delivery managers and support staff.
Customer Enablement is working on creating a technical customer application portal. They provide training and enablement to teach developers how to use an application, a toolset and a set of APIs to solve their problems. It has to have a highly technical developer to create the training materials. A big focus for Cloud Elements is using education to increase value.
Measuring Customer Enablement: Time to value and anecdotal feedback
Amy said her team is measuring customer enablement success by decreasing time to value and receiving anecdotal feedback in NPS surveys that customers aren't finding the onboarding experience confusing. Amy said her team focuses on tracking baselines for how long it takes customers to receive value, and then works with her team and other company functions to reduce that time to value. For instance, if it takes customers 60 days to implement a cloud element, she'll work with her team to reduce that Time to Value (TtV) by 10% until it only takes an average customer 15 days. It's an iterative process.
Voice of the Customer: owned by Customer Success but tied to revenue marketing.
Amy's team oversees Customer Success in conjunction with revenue marketing. Amy is responsible for net promoter score (NPS) and her team focuses on how to improve it by working with product, while the marketing team is on execution side figuring out the tools for surveying and reporting on customer feedback.
Helping customers find value: how do you make this concrete?
Amy said it starts with understanding customer goals at the beginning. Cloud Elements may have a goal like a customer using five elements they purchased, but the customer may have other goals and she wants to understand whether their end goal is to roll this out to 500 customers and get them using the Quickbooks element, etc. Understanding the customer's definition of success and driving to that success is key. Tracked metrics: usage (not necessarily logging in to an interface) more like how many instances did they create, how many API calls did they make, how many support tickets logged, etc.
Advice for people charged with building Customer Success programs from scratch
Always hire superstar people. Amy went through over 35 interviews to get six people - she said referrals are a key part to finding superstars. Hiring someone who covers your "blind spots" is also important.

Develop structure and process for the right stage of your company. Does CS do renewals? Does sales do that? Who does onboarding or do you split it up? It depends on what customers want. Align resources with the right people with the right skills in order to make the customers successful.
Segment duties sooner. Segmenting onboarding from CS, enablement, training, support, renewals and growth has
Don't take no for an answer when it comes to getting data you need to make data-driven decisions. Lack of data "really ties your hands," said Amy. Amy said for people who haven't had the challenge of getting usage data, billing data, or health data or whatever it is out of any system, it can be really hard. It's not a given for everyone to have all data you need to make data-driven decisions. Amy believe this has to be at the top of the list of priorities.
How to get data you need?
Make the case and think outside the box in terms of getting the help you need. Don't leave it to internal development team adding you to their roadmap. See if there are other resources you could contract with to move outside of engineering process.
Is there room for generalists on a Customer Success team or do we need specialists?
This has to do with the company. If parts of your lifecycle are complex, you need specialists; if it's a more straightforward process you can use a generalist. At SendGrid, Amy said generalists could do everything because each part of the lifecycle (onboarding, CSM, renewal, growth) was fairly straightforward. No one had to be an expert in order to help customers onboard or grow. Over time it made sense to create economies of scale but because no one part of lifecycle was complex, generalists worked. At Cloud Elements, doing an integration requires someone who is more technical and can train a developer on how to use the toolset. This isn't a "generalist"-type role. With expansions, renewals and growth, these are longer-term contracts and more complicated sales.
Linking customer education to helping customers
You can't pick up a highly technical product like Cloud Elements and be successful. Online education and documentation, in-person and online training provide customers with the expertise they need to be successful. Complex software products mean customers look to them to make it less painful. This is 30% SME work and 70% "how do you use Cloud Elements?"
Executive support for customer experience is key.
Understand that new sales is no longer king. SaaS companies won't succeed or grow enough with new sales; success depends on understanding what existing customers want, why they want it, and delivering on that. Everyone on the exec team needs to buy into it. You don't have references, marketing materials; if existing customers don't see value there is no future. Talking about it - every time you make decision "Does this really put customers first?"
---
Tell us what you think of Helping Sells Radio
You could:
Write a review on iTunes.
Tweet us using the hashtag #HelpingSells
Comment below.
Thanks for listening to the show.