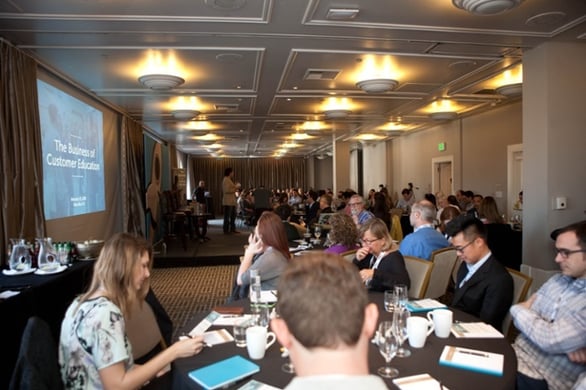 In these special episodes of Helping Sells Radio, we share audio from the Business of Customer Education conference, which was co-located at the Gainsight Pulse Customer Success Conference in May 2017.
Episode 42: ServiceRocket CEO Rob Castaneda on How Customer Education Sets Up Customers for Success
ServiceRocket Founder and CEO Rob Castaneda gives a talk at the 2017 Business of Customer Education Conference (BOCE) about how to use eduction to proactively help customers.
Episode 43: Facebook's Monica Adractas on How Customer Education Should Meet Customers Where They Are
Director of Workplace by Facebook for the Americas Monica Adractas gives a talk about how Facebook thinks about educating employees of enterprise customers, many of whom do not have email and do not sit at desks. Deskless workers interact with colleagues at work primarily through an app in their mobile phone, which requires a whole new way of thinking about educating customers at scale.
Episode 44: Atlassian's Sherry Quinn On Scaling And Repurposing Your Customer Training
---
CLICK-TO-TWEET
Ep. 42 - 46 #HelpingSells Podcast | Business of #CustomerEducation Episodes from @GainsightHQ Pulse Conference https://ctt.ec/f83G4+
---
Atlassian's Director of Training Sherry Quinn shares how to scale customer training and address different customers' needs by starting with a core curriculum and repurposing it into multiple formats.
Episode 45: Dave Derington & Jesse Miller On Linking Customer Training to Product Adoption, Sales
Gainsight Head of Training Dave Derington and ServiceRocket Learning Platform Product Manager Jesse Miller tackle an issue that befuddles most customer education teams: how to link customer education activity with business results. They clarify the process for answering the question, "What impact did customer education have on customer satisfaction, NPS, product adoption, renewal rates, and even product sales?" Answering these questions can turn customer education leaders into rock stars in their companies because they have the potential to turn education from overhead to a profit center that contributes directly to company growth.
Episode 46: Open Source Software Leaders On Running Global, Scalable Customer Education Businesses
In this episode, hear from a panel of customer education executives at open source software companies share how to run customer education as profit-and-loss-focused businesses at global scale. Panelists include Cloudera Vice President of Customer Success Sarah Sproehnle, MuleSoft Head of Education and Certification Richard Huie-Buickius, and Couchbase Vice President of Learning and Strategic Development Peter Childers.
Tell us what you think of Helping Sells Radio
We'd love it if you'd:
Write a review on iTunes.
Tweet us using the hashtag #HelpingSells
Comment below.
Thank you for listening to the show.