Nir Eyal, author of the bestselling book, Hooked: How to Build Habit-Forming Products and founder of the Habit Summit joins Helping Sells Radio to discuss how to design products products to help customers achieve outcomes.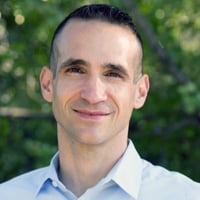 Nir Eyal
Author, Behavioral Engineer, Founder of the Habit Summit
This is one of those episodes that evokes the phrase, "So many things to talk about. So little time." And we jumped right into it. As soon as we started talking about habit forming products, and how successful products are designed to help people do something they already do or want to do. In other words, products should help people do something they want to do, satisfy some need, or achieve some outcome. Not all products are designed that way. Eyal talks about the psychology of persuading people.
People need a nudge.
He referenced Richard Thaler's book, Nudge: Improving Decisions About Health, Wealth, and Happiness as a reference.
One way to persuade people to use your product is to help them make an investment in your product....and we are not just talking about investing money, though that is one way.
---
Click-to-Tweet
#HelpingSells Ep. 35 | @NirEyal On Products That Help Customers Achieve Outcomes. https://ctt.ec/4FCUV+
---
What can we do to help customers make an investment?
If making an investment is so important to getting people to use a product more frequently, the naturally question is to ask how? Eyal suggested getting customers to help co-design the product. Customers who make an investment of time and energy into helping create a product, it becomes more personalized and makes people want to use the product more. After all, they have invested a part of themselves in creating the product.
What is the link to customer success?
It goes back to the concept of whether you are helping a customer does something they want to do, or are you just trying to manipulate or coerce people into doing something they don't want to do. To link this concept of habits to customer success, Eyal told us that we need to ask what need we are satisfying for our customers and to focus on that. Too many companies ignore this question choosing to focus on the technology and what the product can do, rather than on the question of helping customers satisfy that need they have for why they bought your product in the first place.
Nir mentioned the Jobs to Be Done Framework, popularized by Clayton Christensen in Harvard Business Review.
The other idea Eyal shared on this topic is to break down to its core, what a product's purpose is. The only thing that every product does is modulates mood. Said another way, every product is made to help change the way someone feels. Yes, even enterprise products. Good enterprise products help employees (your customers) feel in some way better about the job they do every day. And this makes sense in the context of focusing on how a product satisfies a customer need...that need for being good/better at one's job.
How can you help your customers feel better about the results they achieve in their work because they use your product? That is the question.
What about developing the habit of use a product regularly?
Since SaaS products became a thing, many were adopted from a ground-up approach. Employees started trial accounts or paid accounts with small teams, got up and running pretty quickly, and then formed habits using these new products. Adoption grew organically and companies woke up and realized they would pay up for enterprise accounts and replace legacy systems. Salesforce, GitHub, JIRA, and Slack and just a few examples of products that grew in this way.
The downside is that SaaS companies need to focus on retention...or helping customers develop the habit of using the product.
Nir walked us through his model for how a product can help customers form a habit. This process is also detailed in his book Hooked, which you should get.
It starts with determining the frequency of use. The more frequent the use the more likely a habit will form. Frequency must be at least using a product/performing a task at least once per week. If you product does not require use that frequently, Eyal suggests bolting a habit onto your product. And he tells a cool story about how a real estate agency, realizing home buying could not become a habit, used content to build habits in her prospect list...the habit was to read her regular articles about the local real estate market. People read her stuff (the habit) and some became customers.
Second, Eyal walked us through his hooked model. You will have to listen to the podcast to hear the detail, but the point is to find the hook and prompts people to begin using your product in such a way that a habit is formed.
What about replacing an existing habit with your product?
What if your product is designed to replace an existing habit that your customers have? Let's say you sell cloud task management software and your customers current use sticky notes to manage tasks, and that sticky notes are just fine with them, thank you very much. What do you do?
Eyal suggests four ways to displace this "competitor" habit:
Increase velocity through the hook > Trigger, Action, Reward, Investment.

Example: Netflix versus Blockbuster.
To learn more about the hook, get Eyal's book and visit is website, NirandFar.com

Increase frequency of that habit: Your product makes people do it more often than existing product.
Make the reward more rewarding: Must be 9X better.
Make it easier to start using the product.

Example: Google Docs was easier than Microsoft Word. It is faster and cheaper.
The best product does not always win because people have invested in current habits with current products. The example that we talked about is the hardcore Microsoft Excel power users. These people are not going to switch to another spreadsheet, like Google, because they have investment so much energy learning Excel, become masterful at it, and have formed strong habits.
The product that wins is the product that captures the monopoly of the mind that wins. Maybe they is how we should define "best product."
Habit Summit
Nir's fourth annual Habit Summit is happening in San Francisco on April 4 to 5. The line up of speakers looks great and mind bending.
---
Tell us what you think of Helping Sells Radio
You could:
Write a review on iTunes.
Tweet us using the hashtag #HelpingSells
Comment below.
Thanks for listening to the show.