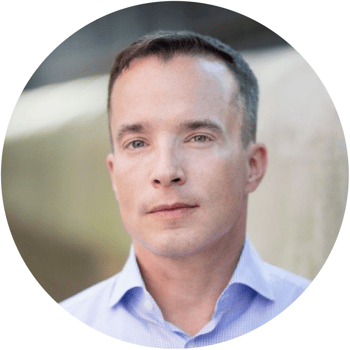 Today's consumers are able to live in a relatively ad-free world because of the evolution of technology. They have tools to help them ignore ads, block ads, or they pay money to avoid them entirely (like with online streaming services). "Brands that don't find another way to connect with their customers are going to go dark," Tom Gerace told us on this week's episode of Helping Sells. Tom, founder and CEO of Skyword and author of the book Storynomics: Story-Driven Marketing in the Post-Advertising World, joined Bill and Sarah to talk about how storytelling is the next evolution in content marketing and how it's one of the last, best ways brands can connect with their audience.
---
Ep. 66 #HelpingSells Podcast: @tomgerace on using #storytelling to connect with your audience: https://ctt.ec/u2YMZ+ #Marketing #CustomerSuccess

---
Storytelling as an experience
In this new world of online experiences, technology is changing the way people learn and discover new things. Gone are the days of just opening the daily newspaper or turning on the nightly news. We look for everything online now; both information and entertainment. This makes it harder for brands to get the attention of their audience, since there is just so much content out there.
It's also why we're living nearly ad-free these days. The increased use of ad blocking software and our thirst for ad-free streaming services makes it very easy to avoid any kind of advertising whenever we're online. How is a brand supposed to break through to their audience at all, much less make a sale?
Instead of interrupting people's online experience with ads, why not create experiences for them, Tom suggested. By creating an experience that mimics what they're used to elsewhere online, brands are able to stay visible to their audience, so that when they're ready to buy, they choose your brand.
Storytelling gains the attention of a hard-to-reach audience
As an example of using storytelling as an experience for an audience, Tom talked about IBM's Security Intelligence website (securityintelligence.com).
Chief Information Security Officers (CISO's) are extremely busy members of the C-suite in today's technology-dependent world. They're at the center of an ever-evolving domain in charge of protecting a company's systems against sophisticated attackers who are perpetually breaking through safeguards and develop new threats and attack vectors every day. Reaching this audience is hard to do, Tom explained, since they're extremely busy, under a lot of constant pressure, and are tech savvy, so they use ad blocking software, screen their phone calls from numbers they don't know, and don't answer emails from strangers.
So IBM created securityintelligence.com, a website that's become the journal of record for security in the IT space. The site provides analysis and insights from the brightest minds in the IT security industry and tracks the most pressing threats and technological advancements affecting the industry. CISOs read the site regularly in order to find out the latest news about what's going on in the industry and use the information to help guard their own systems from attacks.
While the site is created and sponsored by IBM, it does not explicitly sell any of IBM's products. It simply provides valuable information to the industry, about the industry, under the IBM brand. The site "earns" the attention of CISOs and other security professionals, bringing IBM to the top of their list the next time they have a security issue that needs solving. Only then will they explore IBM's security product selection.
Storytelling deepens the relationship with audiences
Brands are investing more in content-centric marketing, as they know it can help sustain and deepen relationships with their customers. It drives sales very effectively precisely because it's not sales-focused.
Tom gave another example of a brand doing this well, Colgate. At their website, Colgate's created a leading website in oral care that provides in-depth dental health information to their audience. They know people have a wide variety of websites to go to for health information, such as the Mayo Clinic site, but Colgate wanted to earn the trust of their audience by publishing the information they need. They're earning a wider audience by providing more than "just" simple toothpaste information, deepening the relationship with them.
Brands can use storytelling to continue teaching and learning
"Here in the US, we've lived with the assumption that after our formal education is done, we're done learning," Tom explained. "We'd learn the rest on the job." That may have worked in the past when industries evolved more slowly than now, but in today's world, it's just not possible.
Technology is changing at such a rapid rate that it's affecting everything. "We need to be in a process of continuous education, both formal and informal," Tom stated. Brands that understand this will have a better opportunity to grow and evolve. Storytelling is a good tool to help brands build stronger relationships with their audience, make them more successful, and ultimately grow as they participate in that continuous education process.
---
To listen to the entire conversation we had with Tom, check out the latest episode of Helping Sells here, on Apple Podcasts, Stitcher, SoundCloud, or wherever you listen to podcasts.
If you liked this episode, you may like these episodes too: