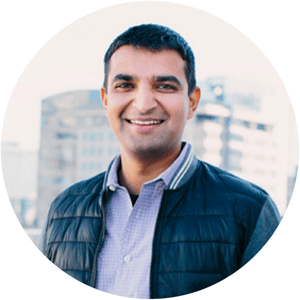 Sangram Vajre knows that account-based marketing (ABM) requires a serious investment of time and effort to be successful. He also knows that companies who make the effort, who go "all in" with ABM will have a lot of success with it. But it starts with the CEO.
"The buck stops with the CEO. And I say that with the utmost respect," Vajre said To Bill Cushard and Sarah E. Brown in the latest Helping Sells podcast. The entire organization must be ready and willing to invest in ABM for it to be successful, because it's such a radical shift from the traditional way of generating and qualifying leads and making sales.
---
Ep 68. #HelpingSells Podcast: @sangramvajre on Building Better #Sales Funnels With Account-Based #Marketing: https://ctt.ec/dbIFj+ #ABM

---
Sales and marketing *should* work together, but usually don't
In most companies, sales and marketing teams act as if they're at opposite ends of the customer spectrum. On one side you've got marketing, who's busy producing content to drum up the lead; on the other side there's sales, who is busy qualifying the lead and then selling to them. Rarely do they act in concert. Marketing stops engaging with them when they become a lead and simply hand them off to sales, who now take over the engagement.
Yet when it comes budget time, sales and marketing are inextricably tied to each other. "When sales are going up," Vajre said. "Companies will give marketing more money." It doesn't even matter how good the marketing actually is; as long as sales are increasing, marketing will have more budget to do whatever it is they're doing.
Conversely, when sales are down, marketing is the first department to have their budget slashed, forcing them to do more with less. Marketing and sales are always linked budget-wise, but rarely work-wise.
ABM helps sales and marketing form a true partnership
Account-based marketing takes time and energy to set up and sustain. That's why Vajre explained that it must start with the CEO. Everyone must "buy in" to the mentality of ABM because it does require so much investment.
To explain this, Vajre used a simple example:
Typically whenever a lead raises their hand and says they're interested in your product, 99% of companies will pass that lead along to sales and tell marketing to stop talking to them. Which is a mistake, but that lead is probably looking at 3 or 5 other competitors as well. You're now in a "war" for their attention, but you've stopped "talking" to them.
With ABM, sales and marketing partner up to handle all the interactions with the lead, handling the lead like the baton in a relay race. It takes both of them stepping up at different times in the relationship to move it forward enough to get closer to the finish line (i.e. get the sale).
Sales + marketing partnership example
Taking Vajre's example further, it could look something like this:
A lead says they're interested in your products.

Marketing sends out some customized content to the lead based on their interaction with your website. Perhaps you send an industry-specific eBook you've created or a link to a webinar you conducted the month prior.

Sales then reaches out specifically to the lead, offering to answer any questions they might have at this time.

Marketing dives in to their website data to see if they can determine if more than just thing single person at the lead company has been poking around on the website.
At the same time, the sales team forwards the questions the lead was asking, even if they've answered them. This gives marketing a chance to create more content for future leads that may have similar questions. It also allows them to create an info packet that satisfies the natural next step question the lead will have.
Marketing sends over that info packet to the lead, pro-actively anticipating the question and keeping the relationship going.
Not only did the lead get their initial question answered by sales, but they've now gotten the answer to questions they didn't even realize they had.
Sales follows up with an offer to demo a module of your software that specifically speaks to an obstacle the lead has (because sales knows what obstacles people in that industry typically face when it comes to their work and how your software solves it for them).

Marketing provides sales with additional content they can use during that demo call and ultimately win the sale.
This type of ABM work requires a lot of time and effort to create all the content that's needed to sustain the relationship. Employees must also have access to the tools they'll need to find all the metrics and data they'll need, such as website heat mapping software, website analytics, and more.
That's why ABM is not something that can be undertaken lightly or half-heartedly. It's something that ends up being "very personalized and sophisticated", Vajre explained. Companies that aren't willing to invest the time and energy will have fewer "at bats" or opportunities to actively use ABM properly, thereby giving them the appearance it's not working.
Final thought
Collaboration and partnership are integral parts of today's business world. When you add in the extra layer of account-based marketing, you can take your entire business to a new level. It starts from the top and flows through down to teams and individual employees. Everyone's pulling in the same direction and their work complements each other towards a common goal.
Have you been using ABM at your tech business? Let us know your experiences in the comments as we're curious to hear how it's working for you.
---
To listen to the entire conversation we had with Sangram, check out the latest episode of Helping Sells here, on Apple Podcasts, Stitcher, SoundCloud, or wherever you listen to podcasts.
If you liked this episode, you may like these ones too: