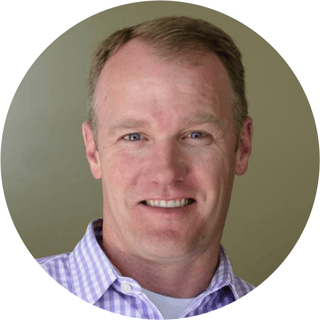 According to ClientSuccess CEO Dave Blake, most customer success teams were focused on tactical activities like onboarding and renewals. But what about the in-between? In this episode, Blake shares how companies who
want to drive value and successful outcomes with their customers can do so by working on the entire customer lifecycle.
---
"Authenticity is important. When they know you're sincere, you don't need a QVR or a suit & tie to sell." - Dave Blake, Founder and CEO of ClientSuccess
As more companies focus on customer success to help drive value and deliver successful outcomes for their customers, gaps are beginning to emerge in the process. "Most customer success teams were focused on tactical activities like on-boarding and renewals," Dave Blake said in the latest episode of the Helping Sells podcast, hosted by Bill Cushard and Sarah E. Brown. "Historically, nobody did the in-between very well."
As customer success (CS) teams mature, Dave explained, they will circle back on those gaps and fill them in. Companies want to drive value and successful outcomes with their customers, which they will do by working on the entire customer lifecycle.
---
Click-to-Tweet
Ep 52 #HelpingSells Podcast: Delivering #CustomerSuccess In Between Onboarding & Renewals @davecblake @clientsuccess https://ctt.ec/ICa7e+
---
"Do it right & customers love it."
One aspect that helps CS drive that value for customers is to understand what key objectives customers are aiming for and help them achieve them. A good CS team will pay attention to the customer's needs and wants throughout the sales cycle and capture all the relevant information. But it's not just capturing the information that's important. CS teams must figure out what value means to the customer and then work collaboratively to help them achieve it. "Every customer's definition of value is different," Dave stated.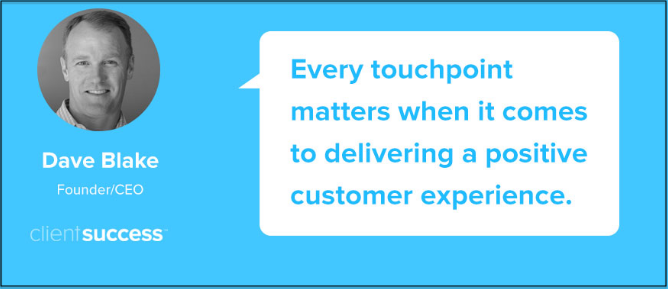 Image Credit: ClientSuccess
You can listen to Helping Sells here, on Apple Podcasts, Stitcher, SoundCloud, or wherever you listen to podcasts.
What's the future of customer success?
Dave is excited to see how technology continues to evolve and expand throughout the CS world. He feels there are many innovations in post-sales technology that will evolve and drive CS to even greater collaborative heights.
In fact, Dave thinks the future of CS is a broader application across more companies and industries. "Customer Success and Customer Experience will combine into a full-on company culture that delivers an all-around, ultimate customer experience," Dave stated.
Executives need to get on board with customer success
One of the biggest obstacles to this customer-centric evolution is the buy-in of executives. According to Dave they believe in it because it's "THE" thing to do, however they don't invest the time and resources to make it truly happen. So they create CS teams within their organizations, yet they don't give them the ability or power to impact change within the organization to truly deliver a CS experience to customers. For example, if a product enhancement request comes from the CS team to the product development team, however there is no mechanism for the development team to prioritize the enhancement in their workflow. Worse yet, there may not be a way for the CS team to even speak to the development team to submit the request!
Only when executives break down the barriers between teams and departments and give accountability for CS to the right spots in the organization can it truly become a CS-focused company culture. "Until you turn the perspective outward, from outside to inside, that won't change," Dave said.
---
Listen to our Latest Episode
To find out more about what Marcus had to say to Bill and Sarah, listen to the latest episode of Helping Sells.
If you liked this episode, you may like these episodes too: