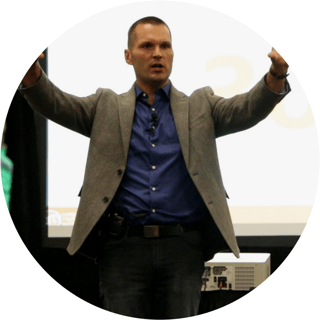 "Great teaching is the greatest sales tool."
- Marcus Sheridan
Yes, THAT Marcus Sheridan. The man who turned his pool company into a multi-million dollar enterprise simply by answering his audience's questions. In the middle of one of the most negative economic times we've seen, Marcus figured out the secret to marketing pools. He used it to become so successful selling pools that he's also opened a marketing consulting firm, The Sales Lion, where he helps other companies use the secret to sell their products.
---
"It may work for pools Marcus, but it won't work for OUR business."
In our latest episode of Helping Sells, hosted by Bill Cushard and Sarah E. Brown, Marcus told us it's a comment he hears all the time. Companies just don't understand how they can increase their sales and revenues simply by being great teachers. "Sales is a business of trust," Marcus explained. It's a battle that every business must fight every day in order to succeed.
---
Click-to-Tweet
Ep. 51 #HelpingSells Podcast: Marcus Sheridan: "Great Teaching is the Greatest Sales Tool" #CustomerSuccess https://ctt.ec/c5pB5+
---
Sales = Trust
To gain that trust in the pool installation market, Marcus decided to be the most open and honest he could be. He answered every question prospects and customers had for him; including questions about pricing, durability, and any other perceived "negative" idea people wanted to know about. These negative ideas, whether they're real or not, are out there and your audience knows about them. By addressing them, companies start a conversation with their audience and maintain the relationship with the audience. Otherwise people will simply go look at one of your competitors.
Many companies, especially technology companies, don't want to talk pricing on their websites, however by ignoring that, they risk losing their prospects' trust and ultimately, their business. "The moment you feel like a vendor is hiding information from you, the trust is gone," Marcus stated.
You can listen to Helping Sells here, on Apple Podcasts, Stitcher, SoundCloud, or wherever you listen to podcasts.
They Ask, You Answer.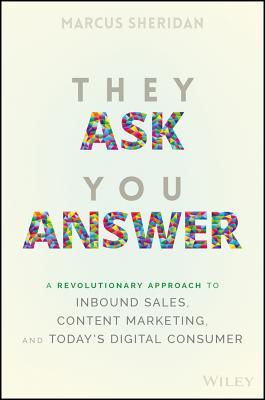 In Marcus' latest book, They Ask You Answer, he outlines how that honesty and transparency can be applied to any company in any industry.
How anyone can use the questions people are asking search engines every day to create educational content that speaks directly to them. How by mirroring the words people use in their searches marketers can create information that resonates even more with their audience.
This is a psychological technique that helps create and deepen relationships that any marketer or sales person can use. People want to buy from vendors they know, like, and trust, and all this educational content does just that. When it finally comes time for them to buy, they're ready. And it works in any industry.
Using they ask you answer in B2B software sales
The biggest obstacle for B2B sales people (and marketers) is that they waste 80% of their time during the sales cycle or on content in their sales funnel that doesn't work. In fact, Marcus explained how this work is redundant for any sales team in any industry.
"In software sales, 80% of the questions are roughly the same in each market/industry. Companies continue to answer these same questions every single time," Marcus elaborated. Instead of rehashing everything prospects know or need to learn, why not give them that information BEFORE the sales call or BEFORE they enter the sales funnel so you can just "skip past that 80% and get down to selling"?
Marcus' main piece of advice for B2B sales teams is to "Get the questions (people want answered) from sales and start producing content for them BEFORE sales even gets involved in the funnel/sales process."
---
Listen to our Latest Episode
To find out more about what Marcus had to say to Bill and Sarah, listen to the latest episode of Helping Sells.
If you liked this episode, you may like these episodes too: