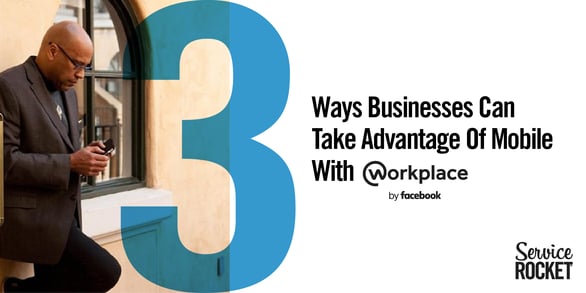 Workplace by Facebook is a platform that enables companies and teams to communicate more effectively, reduce friction and collaborate better. Workplace was designed to go beyond simplifying communications -- it completely transforms how companies interact in digital and mobile spaces.
Workplace EMEA Lead Julien Lesaicherre published a presentation on the future of mobile and business suggesting mobile is not merely a technology; it's a consumer behavior. As enterprises adapt to the future of work, they must account for the increased trend towards mobile behavior not only in the consumer realm, but also at work. Studies show 79% of people 18-44 have their smart phones with them 22 hours per day (Source). Those 22 hours include time spent at work. Employees' constant access to and engagement with their mobile devices presents a huge opportunity for businesses who want to better connect their employees, teams, and global offices.
Workplace paves the path for organizations to work smarter and more effectively in today's mobile-first world. In this post, we share tips for building smarter, better business communication and workflows through mobile with Workplace.
The World Has Embraced Mobile Communication -- And Businesses Should Too
Mobile is a behavior that has largely been ignored at work -- especially in the enterprise -- and businesses that smartly leverage mobile will have a competitive advantage as mobile continues to become even more prominent. Two billion mobile devices will be shipped this year alone (Source). According to the Pew Research Center, in 2015, 68% of U.S. adults had a smartphone (Source). The growing trend towards a mobile-connected world especially applies to companies with large percentages of employees who may not be at a desktop during work hours, including those who work in the field or are traveling. The need for mobile-ready enterprise productivity solutions spans industries including retail, technology, telecommunications, financial services, media, entertainment, food and beverage, transportation, real estate, utilities, shipping and government.
H
ow to effectively leverage mobile at your company through Workplace
1. Give everyone a voice by sourcing knowledge from the field.
Sourcing knowledge from the field is crucial for connecting employees and teams around the globe, at all levels of your organization. In his post "Why Workplace Will Win," ServiceRocket Founder and CEO Rob Castaneda describes this as connecting the head with the hands. In many cases Workplace has already helped companies empower employees by fostering communication channels. In a recent case study, BurgerFuel reported gaining the ability to speak to staff around the world through their Workplace implementation. "Employees collaborate, give feedback to head office, and contribute to other parts of the business" (Source). At Columbia Sportswear, Workplace's mobile capabilities make it easier to collect insights at Columbia Sportswear to get information from remote employees and sales reps in the field (Source). Now, employees in the field can engage in a group chat, live video, or comment on an update--all on the go via their phones or tablets.
Some companies also have workforces that previously lacked communication infrastructure. Yoma Bank is one of Myanmar's largest private banks with 2,800 employees and over 60 branches nationwide. Yoma Bank had less than 20 percent of the company connected online, and previously had to reach employees through printed newsletters, according to a case study. Through Workplace and mobile capabilities, employees previously not at a desk can now be connected through online infrastructure.
2. Extend the reach of leadership to foster transparency and connection.
Many executives travel frequently; with Workplace, they gain the ability to extend their reach even when not in close physical proximity to their teams. They can better understand risks and wins on distributed teams and weigh in. For example, At Yoma Bank, CEO Hal Bosher interacts with employees regularly, sharing articles, motivational messages, and stories. He can now lead with more transparency, even when on a business travel.
At TelNet, the CEO's weekly video-streamed "huddle" is made available in a company-wide group for staff who missed the live broadcast because they were on the phones working or not "on shift" at the time. Home and remote workers now report feeling more like they're part of the team at TelNet (Source).
3. Bridge global teams with Mobile
In a recent case study, Danone reported that Workplace enabled them to expand their global connectedness. "100,000 Danoners across the globe will now get to experience the next level of digital collaboration easily and simply," said Danone Executive Vice President - Waters, Francisco Camacho. (Source) Often, global teams lack the ability to communicate in real-time across multiple time zones, but with Workplace, global teams have new ways to catch up through groups, group messages, and recorded videos. It's never been easier to connect your global teams.
Final Thoughts
Workplace is changing the way businesses across the world are communicating and working together. For those who spend their entire work day out in the field or otherwise on the go, Workplace helps businesses stay connected. Our mobile world requires us to work differently, and Workplace bridges people across geographies, departments, and job titles.
Ready to learn more about Workplace by Facebook?
We're hosting free, live Jam Sessions to show off the product.