Customer Success teams already have an array of software solutions at their disposal to increase renewals, customer lifetime value (CLTV) and mitigate churn. Gainsight, Salesforce, Learndot, and other platforms are indispensable for driving successful customer outcomes. But these tools leave a notable gap in the realm of day-to-day workflow and productivity. Many Customer Success teams are mired in email, stuck playing phone tag, and are struggling to communicate effectively with customers, among their own teams, and across other company departments and with their leadership teams. Customer Success teams need a better way to conduct the actual work of enabling success for their customers that still happens mostly outside the aforementioned platforms.
Enter: Workplace by Facebook, a communications platform that is changing the way business is done on the planet by empowering companies to collaborate across geographies and departments through better communication, work, and sharing tools. One of the most exciting applications of Workplace is leveraging it to surmount the most common obstacles that modern Customer Success functions face. In this post, we explore some of the ways Customer Success teams can solve their biggest challenges through Workplace by Facebook.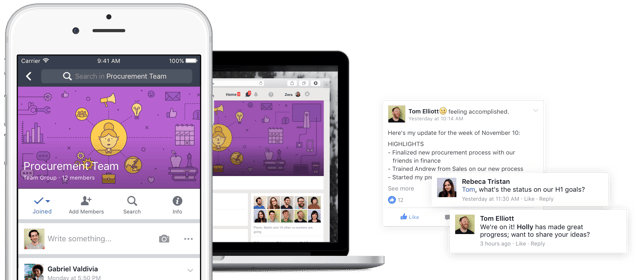 Use Workplace To Drive Customer Success At The Beginning Of The Customer Lifecycle
Customer Success begins pre-sale during the marketing, education and sales interactions that shape the early experiences your customer has with your business. Whether during a demo, trial, customer training or another pre-sale channel where the customer is experiencing their first value from you, Customer Success should become actively engaged out of the gate. That first engagement between Customer Success and a customer is crucial to setting up a strong relationship that will set the stage for future success.
Nail The Sales Handoff to Customer Success Through Internal and External Customer Groups
When customers are assigned a CSM as part of the sales process, there is an opportunity to bolster that relationship through direct customer engagement in a private shared group on Workplace, called a "multi-company group". The onboarding is frictionless; invite your customer to this private group, and they can immediately onboard themselves to Workplace and begin communicating and collaborating with you directly, privately and securely in a dynamic, multimedia way. Your customer can conduct QBRs or other check-ins through recorded Facebook Live videos that will live on in perpetuity--especially helpful when new team members join the account or if your customer sponsor leaves.
Where email and phone call communications get lost among multiple sponsors and team members, Workplace provides a single-destination solution for ongoing Customer Success interactions. Some of the things you can do in a private shared multi-company group: Track implementation success and ensure key stakeholders see it; set initial and track ongoing KPIs; align expectations around timelines and deliverables; and work through potential roadblocks to provide value to customers right out of the gate and throughout their lifecycle. Never get lost on an endless email thread with multiple departments and customer sponsors; keep all communication and work in Workplace to save time and improve results. Create one thread for each customer in an internal group specifically for that customer, and efficiently keep all of the key functions abreast of progress. Our Chief Toolsmith Matt Doar suggests creating an internal customer group "Customer: XYZ" for discussions with your colleagues about the customer named XYZ and a multi-company group named "MCG: My Company and XYZ". MCG for multi-company group to remind everyone that info is shared.
Then the internal work happens in a series of posts in the group "Customer: XYZ", including @mentions to involve other colleagues. A new post is used for each major topic, just as you would use a new email. Then the threaded comments in the post make the work easier to follow.
---

"Never get lost on an endless email thread with multiple departments and customer sponsors; keep all communication and work in Workplace to save time and improve results."

---
Aggregate And Operationalize Customer Data Through An Internal Customer Group
Collecting and making use of customer data and insights is key to a CSM's work. It's important to do more with data both internally and to share that information directly back to customers, which encourages both your team and your customers to improve their adoption and results. Yet a recent study conducted by Salesforce found only 17% of companies have fully integrated their customer data across all areas of the organization.
Through your internal company group, gather all employees who work on that customer to help make that customer successful. Rally everyone around the customer in a shared group hosting customer data and internal communication.
One of the biggest Customer Success challenges is being able to effectively capture and analyze customer interaction data. Harder still is being able to use that data to generate value for your customers and your company. Through Workplace, previously non-electronic touch points (phone calls, meetings, QBRs, etc.) were difficult to track in terms of when they happened, who was involved, what the outcomes were, etc. Monitoring and operationalizing those interactions can greatly impact customer health.
Workplace enables you to easily track all customer data through shared groups, and provides the tools to see how the patterns around these activities correlate with other factors like application usage and customer outcomes like renewals and expansions. In an internal company group, you can align Customer Support, Implementations, Customer Success, Product and Marketing teams and anyone else who engages with your customer by keeping all data in one central place.
Catch churn threats or flag upsell and expansion opportunities early through proactively surfacing issues in Workplace
In Workplace, anyone can share knowledge quickly and effectively to those who need to consume it. Anyone who is in your internal customer group can flag an issue or opportunity, meaning that churn threats or expansion/upsell opportunities can be surfaced far before they might in a weekly or monthly customer meeting. It's important to flag both risks and opportunities, and Workplace provides an ideal solution for CSMs to capture these and take appropriate action. A recent study conducted by Bain & Co. found that a five percent increase in customer retention rates had the potential to yield profit increases from 25% to 95%.
When a customer escalation occurs, save time by identifying the key areas where attention is needed. You can use Workplace groups to quickly pull people together around the customer and find the right colleagues to help. For example, if a customer is experiencing a feature bug and has sent a ticket to support, a CSM can check in with support directly on Workplace in the customer group and is able to provide instantaneous feedback back to customers in the shared customer-company group. Closing the gap between Support and Customer Success has never been easier. And, most importantly, this means no more forcing customers to wait weeks to find out when issues will be resolved.
In terms of opportunities for upsell or expansion, any team member connected to the customer can surface an opportunity. For instance, if one of your implementation consultants is onsite and discovers some additional areas where your company can help, that consultant can post in the group and flag the attention of Sales and your CS team to pursue the opportunity. Every person who engages with a customer account can contribute directly to their success through Workplace.
Align Customer Success And Executive Leadership
Customer Success teams require executive leadership to be completely on-board with all efforts. A recent study reported in Forbes reveals that while 34% of customer success teams are standalone functions reporting to the CEO, 14% of teams still report into sales or marketing. That means that Customer Success still has a long way to go to connect all efforts directly to the C-Suite.
As ServiceRocket CEO Rob Castaneda writes in Why Workplace By Facebook Will Win, Workplace is so effective because it "connects the head to the hands," meaning that leadership can now become more easily involved with Customer Success initiatives. Workplace is about moving beyond executive buy-in and moving to executive leadership. Customer Success initiatives. Customer Success expert Lincoln Murphy outlines in The Definitive Guide to Customer Success that aligning all functions around the core purpose of your customers' success is crucial. Workplace enables executive leadership to be actively engaged in customer success initiatives at your company.
Final Thoughts
Customer Success requires a commitment to an ongoing successful customer relationship. From pre-sales marketing, education and sales to onboarding implementation and training success to delivering ongoing value leading to renewals and expansions, Customer Success is the through-line connecting all elements of the customer experience. Through implementing Workplace, Customer Success teams finally have access to a platform with capabilities that align with their daily workflows and enable them to better communicate and collaborate with their team, other company departments, and their customers.
---
Live Webinar:
Manage Your Customer Accounts Using Workplace by Facebook