Teams from around the world will be convening in San Jose, California from Sept. 12 – 14 to learn more about how to build stronger and more collaborative teams through training, breakout sessions and keynote speakers.
We asked ServiceRocket's Chief Toolsmith Matt Doar which sessions he recommended. Here are the top 5 recommended sessions to attend:
1. Merging and Migrating: Data Portability from the Trenches

This session talks to the experience of consultants and why it's difficult to move data between instances of JIRA, which is a personal interest of Matt's since he's a consultant as well.
2. Continuously Integrating Distributed Code at Netflix

You'll learn more about how Netflix built a service to test code changes across all potentially impacted Git repositories at Netflix. Not only that, but Ed Bukoski's session is worth attending because he is technical and communicates clearly, according to Matt.
3. Scale at Reddit: Triple Your Team Size Without Losing Control

Atlassian Summit 2017 attendees can see how tools like JIRA and Tableau help Reddit scale its engineering team from 40 to 120 engineers.
4. Expecto Performa! The Magic and Reality of Performance Tuning

Denise Unterwurzacher, a developer at Atlassian, will be talking about the many ways of addressing performance problems and why there is no simple playbook. Matt recommends this session also because of her talk at Atlassian Summit 2016 about reducing downtime by tuning garbage collection.
5. Mental Health in the Workplace – The Atlassian Way

Learn about how Atlassian addresses mental health through love, care, and attention. Attendees with first-hand experience with mental health, or those who just want to know how to help can learn about how Atlassian addresses mental health through love, care, and attention. "I admire him, and I want to see and support him," Matt said.
15-minute Demos
In addition to sessions, there will also be 15-minute demos at Theater A and B. Check out the schedule below: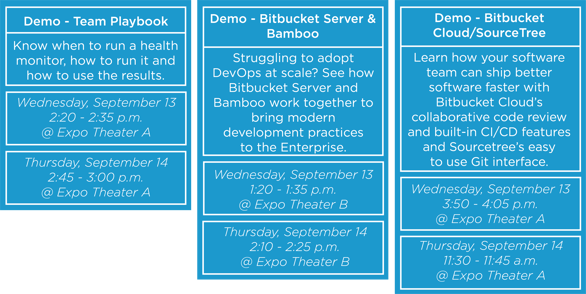 Matt recommends the Team Playbook Demo because he said it caters to a wider audience and discusses how to improve your team.
Other demos at this year's summit will teach you how to use Bitbucket Cloud's collaborative code review and SourceTree's Git interface, as well as how to use Bitbucket Server and Bamboo to adopt DevOps at scale.
Come to our Booth and (Maybe) Win a Guitar
With these recommendations, you'll be ready to head to this year's Atlassian Summit. Don't forget to check out the ServiceRocket booth and chat with some of our very own Rocketeers. Our booth is located at #1028, to the right of the main entrance. We'll also be hosting our annual Guitar Giveaway, where you'll have a chance to win a guitar and join the Guitar Giveaway Hall of Fame.
And if you're looking for more ways of working with Atlassian tools, The Add-on Allstars will be hosting the Add-on Discovery Day on Monday, September 11. Nine leading Marketplace add-on makers will be giving presentations and one-on-one discussions about how to make teams more effective.
Summit Talk Preview: 5 Simple Strategies for JIRA Service Desk Success
Even if you're not going to Summit, you can still check out this upcoming webinar. We'll be previewing ServiceRocket's Senior Technical Consultant Greg Warner's webinar about 5 Simple Strategies for JIRA Service Desk Success. JIRA Service Desk has the potential to improve how teams deliver service to customers and internal stakeholders. Greg will not only talk about examples of how organizations are using JIRA Service Desk, but will also offer ideas to get teams in your organization to adopt JIRA Service Desk.