We've come to the point where purpose-built apps are preferred over generic-purpose, all-in-one tools. The need for data federation, accessibility, and transparency has arisen along with major emphasis on data privacy like GDPR. With all these challenges, how do you set up your customer-centric teams with the right tools, provide access to the right data, and encourage collaboration?
Open up access, within limits
More often than not, all customer-facing and technical teams use Confluence to manage, plan, and work on client projects alongside Jira to track tasks. Customer-facing teams like the Sales, Finance, Marketing, and Support team work on client relationship in Salesforce.
They all need to work together, but let's face it -- it's impossible to give all Confluence users the access to Salesforce. The answer is to bring Salesforce information into Confluence. Integrate your tools, integrate your teams.
---
| | |
| --- | --- |
| | Can't afford to give Confluence users access to Salesforce? Integrate your team in a different way. |
---
Bring visibility, without duplicating efforts and data
We've found teams like Technical Account Management (TAM) or Customer Success Management (CSM) benefit from a 360 degree view of cross-organizational visibility of clients they work with. When you bring Salesforce data into Confluence, you'll start hearing remarks like this: "Hey, I didn't know Alex from Sales is working with Acme & Co. He might be a great help for me to kickstart Acme's latest project". Isn't that handy?
After integrating Salesforce and Confluence, it's a matter of selecting what data is relevant and what to show. Amongst the most common data to surface are reports and client information, such as: size of business, number of employees, revenue, open opportunities, support cases, contact information (a somewhat aggregated view at the business level). And best of all -- no copy and paste involved, and all information is always up to date and real-time.
Add context to conversation, for faster turnaround
It's more productive when conversation is timely and supported with context. Discussions about clients but without any context or accessible information is as good as none. On the other hand, team members can save time by adding quick links that automatically display information about a Contact, Account or Leads being discussed.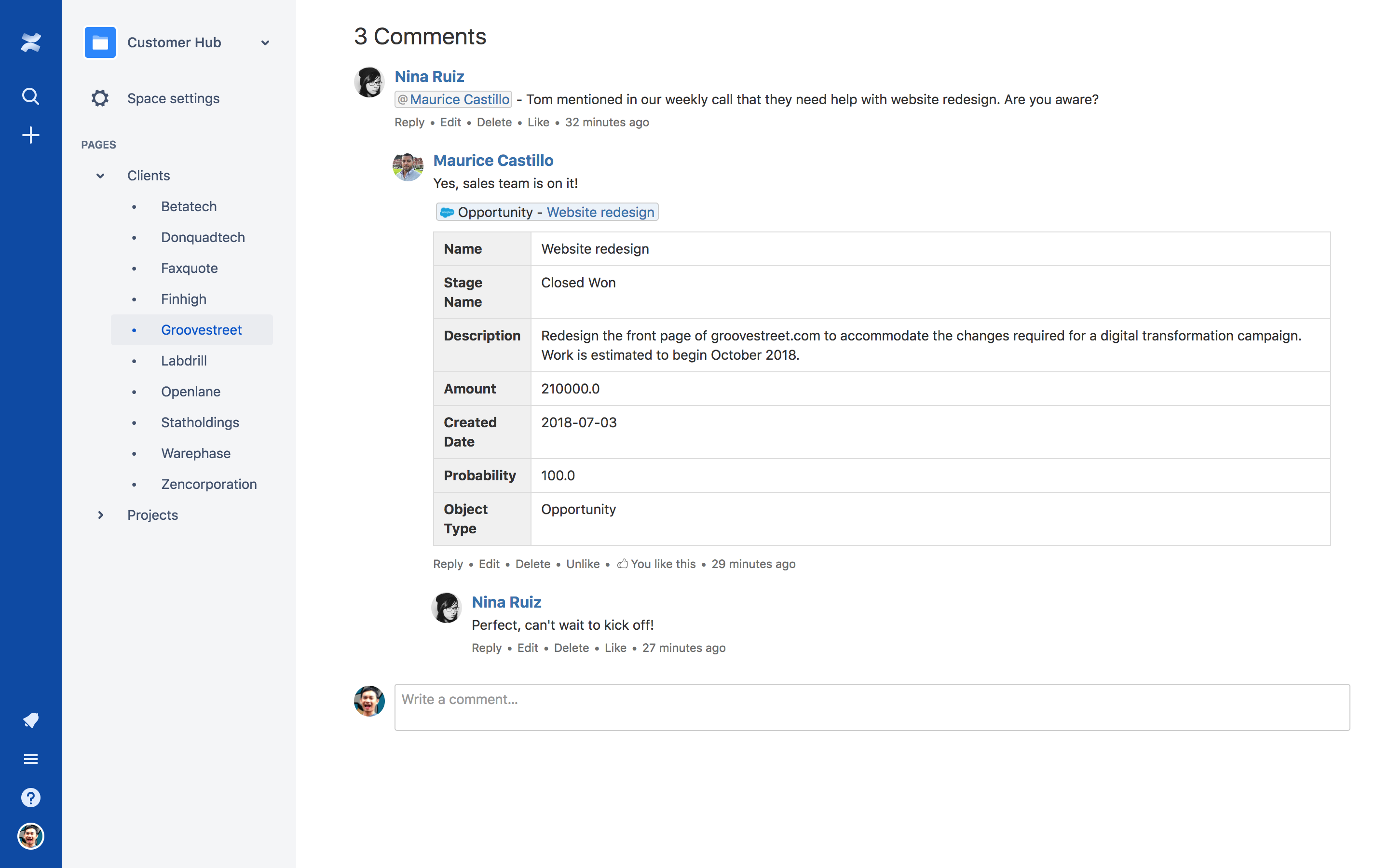 If you are looking to start managing client projects with Salesforce and Confluence, try ServiceRocket's Salesforce & Confluence Cloud Connector for free today. Also available for Confluence Server.
---
| | |
| --- | --- |
| | Can't afford to give Confluence users access to Salesforce? Integrate your team in a different way. |