New M20 Technology add-on dynamically links Google contacts data with advanced reporting in Atlassian Confluence
M20 Technology, a software and consulting company based in New York City, announced the initial release of the Google Apps Connector for Atlassian Confluence. The add-on is designed to integrate contacts from a company's Google Apps account, enhancing the role of Confluence as a hub for collaboration and knowledge sharing. It extends Scaffolding and Reporting built by ServiceRocket, a leading provider of Atlassian software and services.
Features included in this release:
Single source of truth for all contact details within the Google Apps account

Supplier components to report on one or more contacts using the Reporting add-on

Form elements to embed contacts within Scaffolding templates

Integrated screens to view full contact details within Confluence
Stop by the ServiceRocket booth at the Atlassian Summit at 11am PT on Thursday, November 5th for a live demo.
Possibilities
The Google Apps Connector manages lower level functionality so users can focus on solving business challenges. Paired with Confluence and the Scaffolding/Reporting tools, the Google Apps Connector allows users to build bespoke Contact Management Systems (CMS) or even CRMs.
"Our customers have been looking for ways to integrate their Google data with Confluence for some time", says Jesse Miller, Product Manager at ServiceRocket. "The Google Apps Connector does exactly that by allowing users to source their contact data in Google and embed it in Confluence reports and forms. The potential applications for this are only limited by creativity. It's very exciting. The add-on is also a great showcase for the power and flexibility of ServiceRocket Scaffolding and Reporting.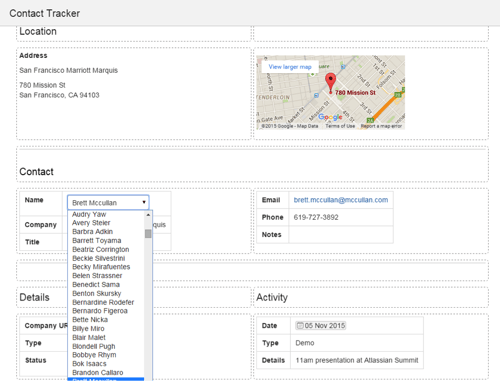 Those interested in seeing more can stop by the ServiceRocket booth at 11am on Thursday, November 5th at Atlassian Summit to watch a presentation, interact with the add-on live on a Sandbox, or discuss feature requests. Please contact sales@m20tech.com to request assistance in building tools around this add-on.
Availability
---
About M20 Technology
M20 Technology helps companies collaborate more effectively through customized software development, training and support. We combine our expertise in quality software with years of industry experience to assist companies in creating technology platforms that foster a collaborative culture.
This add-on becomes the second add-on on the Atlassian Marketplace for M20 Technology, after the release of their free Tooltips add-on. Only on the marketplace since May 2015, it is steadily gaining ground in both installs and positive reviews.