Before I could finish my sentence, someone interrupted, "We need to know how many people have read a page."
I'd come to this Atlassian user group to ask users how they manage Confluence and JIRA system health. My goal was to promote use cases for ServiceRocket's TrustedAdvisor product. But the gentlemen in the back of our group wearing the "I'm Working Through My Issues" JIRA t-shirt had more to say.
"Our page owners are asking us for usage information." Others nodded in agreement. "Content owners have no way of knowing if anyone is reading their pages."
Content utilization became a recurring topic whenever I spoke to Confluence users last summer. Some users focused on the problem of tracking pages; others were concerned that users didn't read what they needed to.
When I dug a bit deeper into these issues, the root cause emerged -- it was just too difficult for users to find and consume the right information.
Some users were forced to rely on email to send links to people. Yet they could never be sure the users would open the email or click on the links. Even if emails were opened and links were used, they quickly became out of date.
This problem wasn't new to ServiceRocket. Azwandi Mohd Aris, Product Manager for Atlassian add-ons and his team of Confluence developers, had been thinking about these issues for several months. In early 2016 they released a nascent feature in ServiceRocket's Composition for Confluence add-on that allowed admins to bundle pages together to create virtual tutorials.
The concept was modest: allow admins to link together existing Confluence pages so users could easily find and step through them. While basic, the idea received positive attention from our Composition users.
Subsequent user conversations like the one above encouraged us to create a full-fledged product to solve the challenge of finding and utilizing pages in Confluence.
The project's goal was simple and ambitious: Create the best way to deliver and track content in Confluence. Our goals were to:
Make it easy for users to find content
Eliminate the need to send email links

Deliver content to users from anywhere in Confluence

Remove the risk of using the wrong version of a document
Simplify how content owners deliver pages that manage common tasks such as
Onboarding new hires

Maintenance of product knowledge

Delivery of compliance material
Enable the tracking of content consumption
Allow content owners to confirm that their materials reach the right audience

Let users track their progress and compare it to others

Enable admins to measure and improve the utility of Confluence
I'm proud of the work that the Knowledge Pathways team has done over the past four months to address these issues.
Now users can enroll in a pathway and easily manage the steps they must take to complete it. Admins can publish the completion levels of those enrolled in a Knowledge Pathway and give content owners visibility into the utilization of their materials. Content owners can also drive pathway completion by inspiring a little competition within their target audience.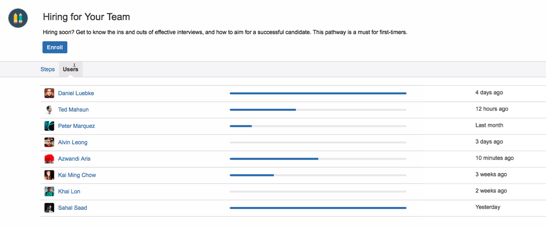 I encourage you to explore the features and benefits of Knowledge Pathways and look forward to hearing about your experience. After all, input from users like you led us to create Knowledge Pathways. Let's continue the discussion and explore where we go next.